Walk on Water, Get Your Science Geek On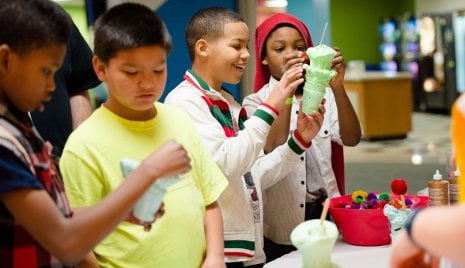 At a jam-packed Washington Convention Center this weekend, thousands and thousands of youngsters will get sticky feet and tongues discovering how much fun science and engineering can be. They'll be dashing through ooblek and slurping liquid nitrogen ice cream at the Michigan Tech Mind Trekkers booths at the USA Science & Engineering Festival in Washington, DC, April 15-17.
Mind Trekkers, made up of Michigan Technological University student volunteers, is the national science and engineering expo's official Travelling Festival. They've performed their interactive demos at the previous three USA Science and Engineering Festivals and at major science shows throughout the country, including the Boy Scout Jamboree and Destination Imagination.
So about that ooblek. It's a mixture of water and cornstarch. Known as a non- Newtonian fluid, it acts like a liquid when it's sitting still but a solid when pressure is applied to it. That means you can run right across it, getting only slightly sticky feet, but if you stop, you sink—and stick.
Liquid nitrogen ice cream is a sweet treat you can make in a minute. Mix cream, sugar, flavorings—chocolate is a favorite, of course—and liquid nitrogen, stir for 60 seconds, and get those spoons ready. Liquid nitrogen is super-duper cold—minus 321 degrees Fahrenheit—and as it is mixed into the warmer cream mixture, heat transfer causes the nitrogen to boil, evaporate into a cool fog and turn the other ingredients into ice cream.
Other mind-bending demos will include:
Foam Gnomes, where children learn about chemical reactions by mixing two polymers and watching colorful, funny-shaped "gnomes" grow out of their cups. They get to take their foam gnomes home.
Van de Graaff generator, a shiny silvery ball that makes your hair stand on end when you touch it—a demonstration of the power of static electricity.
Dragon's Breath. Soaking graham crackers in liquid nitrogen and chewing them enables participants to see their breath.
Twenty-four Michigan Tech students and seven staff members are going to the Washington science and engineering festival. They will run 15 demos in their 2,000-foot exhibit space and help at the Chevron STEM Zone. They will also take the Mind Trekkers demos to The Independence School's STEMFest on Thursday, April 14 in Newark, Delaware, before the DC festival opens.
A sneak peek scheduled for Friday, April 15 for schools and military personnel. At the last festival in 2014, upwards of 25,000 attended the sneak peek. This year, 50,000 had already registered by the first week in April. The festival is free and open to the public on Saturday and Sunday, April 16-17.
Michigan Technological University is a public research university founded in 1885 in Houghton, Michigan, and is home to more than 7,000 students from 55 countries around the world. Consistently ranked among the best universities in the country for return on investment, the University offers more than 125 undergraduate and graduate degree programs in science and technology, engineering, computing, forestry, business and economics, health professions, humanities, mathematics, social sciences, and the arts. The rural campus is situated just miles from Lake Superior in Michigan's Upper Peninsula, offering year-round opportunities for outdoor adventure.