From the Lab to the Marketplace: Michigan Tech Researchers Find Help at Home to Commercialize Their Discoveries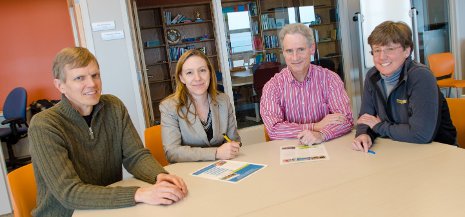 Startup companies involving two Michigan Technological University faculty members have recently signed commercial licensing agreements, which represent important commercialization milestones.
Microdevice Engineering Inc. is a Houghton, Michigan-based company that is developing a portable point-of-care battery-operated blood typing device. Adrienne Minerick and Mary Raber from Michigan Tech are core members of the founding team. Minerick is associate dean for research and innovation in the University's College of Engineering. She is also a professor of chemical engineering and an adjunct professor of biomedical engineering. Raber is the assistant dean of academic programs for the Pavlis Honors College and co-director of the recently established Innovation Center for Entrepreneurship.
Megan Frost, an associate professor of biomedical engineering and adjunct associate professor of materials science and engineering, is co-founder of the other company, FM Research Management, LLC, which is currently developing nitric oxide-releasing materials for antimicrobial applications.
Both companies worked extensively with services and programs provided by the Technology Commercialization Team in Michigan Tech's Office of Innovation and Commercialization. The team helps researchers move from technical discovery to product launch.
Those services and programs included the Michigan Translational Research and Commercialization (M-TRAC) program that provides guidance for advanced materials technologies and the Michigan Tech Transfer Talent Network (T3N) that guides University-based entrepreneurs.
Both programs are funded by the Michigan Strategic Fund, with program oversight by the Michigan Economic Development Corporation (MEDC), a state government agency that promotes Michigan's base of sustainable, innovative and job-creating companies.
Michigan Tech also offered business development expertise and financial resources through Superior Innovations— a company funded through alumni donations to future University technologies. Superior Ideas is the Michigan Tech crowdfunding site, the Commercialization Milestone Grant program and connections with angel investor networks. These programs provided the companies with early stage financial leverage, strategically utilizing federal and state funding sources.
Minerick and Raber formed their company in the spring of 2013, when they were participating in the National Science Foundation's I-Corps training following inForum's ACTiVATE program, which offers training for women entrepreneurs. Participation was sponsored jointly by Michigan Tech and the Michigan Tech Enterprise Corporation (MTEC) SmartZone.
"MDE is developing a handheld point of care device to type ABO-Rh blood and hematocrit (blood cell concentration) in five minutes," Minerick explains. "The device is being engineered to be as easy to use as a blood glucose meter." She says the road to commercialization, especially for medical products, requires crossing multiple technical and regulatory milestones.
"Our team has been fortunate to be supported by state and federal funding to move this technology out of the academic research realm and into blood donation clinics to screen potential donors," Minerick says. She encourages researchers on campus with an interest commercializing their novel technologies to reach out to Michigan Tech's Office of Innovation and Commercialization or to her within the College of Engineering.
David Reed, vice president for research at Michigan Tech, commends the faculty effort. "Commercialization and innovation are core elements of Michigan Tech's strategic plan," he says. "It is great to see our faculty researchers leveraging resources and talent, both inside and outside of the University, to move their laboratory discoveries closer to the market.
Frost describes her technology and role of her new venture. "My company is commercializing a novel self-sterilizing polymer that will be used in wound dressings to reduce bacterial infection," she says. Frost worked with the Office of Innovation and Commercialization and the MTEC SmartZone to evaluate the technology she developed in her laboratory from a commercial perspective. They helped her identify the strengths of her approach, complete an IP filing strategy and conduct follow- on vetting of the approach before launching the business.
Jonathan Leinonen is a mentor in residence at Michigan Tech who assists fledgling companies through the Talent Transfer Network and Superior Innovations. "These companies demonstrate how willing the resources from the MEDC, Michigan Tech, the statewide talent network and private investors are to work together," he says.
Leinonen says the companies benefitted from assistance in developing a strong team in conjunction with statewide organizations, advisory boards, mentors and private consultants that all contributed toward a commercialization strategy, placing an experienced CEO to move each company toward a product launch.
Michigan Technological University is a public research university founded in 1885 in Houghton, Michigan, and is home to more than 7,000 students from 55 countries around the world. Consistently ranked among the best universities in the country for return on investment, the University offers more than 125 undergraduate and graduate degree programs in science and technology, engineering, computing, forestry, business and economics, health professions, humanities, mathematics, social sciences, and the arts. The rural campus is situated just miles from Lake Superior in Michigan's Upper Peninsula, offering year-round opportunities for outdoor adventure.