Mushing Toward a Dream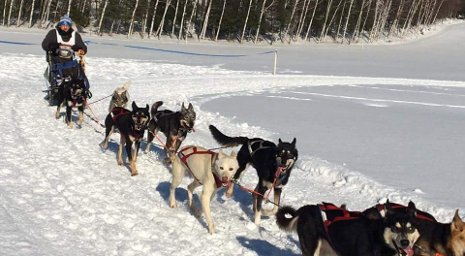 When Michigan Technological University student Adam Schmidt leads his six-dog team in the CopperDog 80 on February 26, it will mark the latest chapter in a love affair with sled dog racing that began in a Wisconsin elementary school more than a decade ago. The CopperDog 80, is a two-day race made up of two 40 mile segments, held as part of the CopperDog 150 weekend
When Schmidt, a second-year chemical engineering major, was a fourth-grader at Park Community Charter School, in Kaukauna, Wisconsin, librarian Mary Vander Loop taught her students a strange new word. "She introduced us to the Iditarod and dog sledding," Schmidt recalls. "She would read us books and set up displays with different checkpoints."
When Schmidt heads off into the heart of the Keweenaw Peninsula, no doubt those elementary school memories of following his favorite mushers, Jeff King and Mitch Seavey will come along for the ride. "We would research the racers and follow them throughout the races," Schmidt remembers. "The best part of the race season was hearing the Iditarod Song through the loudspeakers and everyone singing along.".
So how does a man who describes himself as a "cat person," end up training a team and mushing in a prestigious sled dog race? "I didn't even think about dog sledding when I came up to Tech," Schmidt says. "But then OAP (Outdoor Adventure Programs) offered dog sled rides at the Otter River Sled Dog Training Center. I was so excited. I talked to the musher, Tom Bauer, and he told me to call him before I came back up to school."
The following fall Schmidt contacted Bauer and almost immediately started taking care of the kennel and three sets of puppies. "From the beginning, I was his youth musher, I came out around twice a week to have his dogs pull a truck around the woods and help with the feeding," Schmidt says. Helping out around the kennel led to training the team that will compete in the CopperDog.
Play Humans of Michigan Tech Featuring Adam Schmidt video
Humans of Michigan Tech Featuring Adam Schmidt
Balancing School and Mushing
Schmidt says balancing school and his training has been a challenge. "The kennel is a half hour away (from Houghton), and now that we're training for the CopperDog, I have had to come out to the kennel four days a week for four to five hours to train my team." In addition, he is quite involved in campus activities and holds leadership positions in organizations, while carrying a full course load.
While the 80-mile race is only about half the distance of the CopperDog150, Schmidt says it is still a major challenge. "I am a little nervous about if the dogs will be able to make it through the full race. There are many changes of elevation and lots of powdery snow," he says.
As race day nears, Schmidt is keeping his expectations realistic. "My first priority is keeping my team and myself safe. After that, I expect to finish somewhere near the middle of the pack." Due to the closeness of the mushing community, Schmidt hopes to learn from the experience. "I expect many of the mushers to help me learn because that is what they do. This sport creates a family atmosphere with great support and understanding."
Building Sleds
The educational aspect of mushing doesn't end with the race. As part of a project management class, Schmidt and two other students are creating a project plan, hoping to create a club to build sleds made out of old and broken hockey sticks from Michigan Tech, to donate at future CopperDogs. Schmidt hopes to get the support of local high schools, Michigan Tech groups and local businesses.
He also hopes the club will work with local mushers to help with everything from being dog handlers to puppy walkers and even becoming a musher as he did. Schmidt says he appreciates the support he's had from everyone involved. "Although I'm nervous, my favorite part of being in this race is the support of Michigan Tech, all my friends and the communities around Calumet. I cannot wait to have so many people coming out to not only cheer me on, but to enjoy the UP and dog sledding in general.
Les Cook, Michigan Tech's vice president for student affairs and advancement enthusiastically supports Schmidt's efforts. "What Adam is doing completely embraces the adventurous spirit of Michigan Tech students," Cook says. "I am so proud of him for following his dream, and we all look forward to his race. Although I'm not quite sure of the breed of his team, 'Go Huskies' would probably be appropriate."
Schmidt plans to take the support of the University, friends, family and well-wishers with him into the silence of the Copper Country wilderness. "I will do my best and try my hardest to fully represent myself, the kennel, my hometown and Michigan Tech with the best of my ability."
And with that comes the satisfaction of seeing a dream come true. "After putting in all that time into training, when I came off the starting line of my first race I smiled that I was actually doing what had been my dream. I couldn't believe it."
Michigan Technological University is a public research university founded in 1885 in Houghton, Michigan, and is home to more than 7,000 students from 55 countries around the world. Consistently ranked among the best universities in the country for return on investment, the University offers more than 125 undergraduate and graduate degree programs in science and technology, engineering, computing, forestry, business and economics, health professions, humanities, mathematics, social sciences, and the arts. The rural campus is situated just miles from Lake Superior in Michigan's Upper Peninsula, offering year-round opportunities for outdoor adventure.