From Meru to Mavis: Something for Everyone at the 41 North Film Festival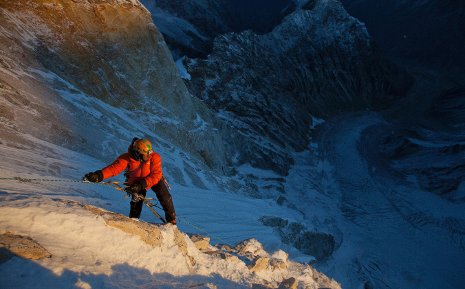 Mountaineer and photographer Jimmy Chin will present the opening night film at this year's 41 North Film Festival with his award-winning film Meru. The festival runs from October 23 to the 25th in the Rozsa Center for the Performing Arts and will showcase 17 independent films from all over the world, two featured filmmakers, and an Oculus Rift exhibition. "I travel to film festivals during the year and try hard to keep up with what's happening in independent cinema," said festival director Erin Smith. "I pay particular attention to what the community here would be interested in, as well as to programming films that are receiving critical acclaim."
The opening night film Meru tells a captivating story about risk, determination and friendship, following the efforts of three internationally famous climbers (Chin among them) to reach the Shark's Fin summit of Mount Meru in the Himalayas. Smith said, "This is the biggest event we've ever organized for the festival." Chin is an award-winning photographer whose work has been featured regularly in National Geographic, and his film won the 2015 Sundance Audience Award. Meru will be shown at 7:30 p.m., Friday, Oct. 23. Chin will speak after the film, answering questions and meeting with students.
Another festival highlight is a new documentary about the Taser Corporation, Killing Them Safely. With significant implications for engineering ethics and marketing, this documentary investigates how a weapon marketed as "safe" has become responsible for scores of deaths each year. The film will be shown at 7:30 p.m. on Saturday, Oct. 24 with director and journalist Nick Berardini present.
How and Why Films Get Made
Smith, who is also director of the Humanities Digital Media Zone and teaches digital media and film, said the festival was started eleven years ago to help film students consider the context of film viewing and how and why films get made outside of the dominant Hollywood system. "A festival setting is a much different experience than watching a movie at home or even in a multiplex theater," she said. As the festival has evolved, it has come to involve more of the Michigan Tech and surrounding community each year.
"I think it's a unique opportunity for students to view films that we really don't get access to up here," said Daniel Grayvold, a fourth-year sound design student. "There's something for everybody."
On Sunday, Oct. 25, Drone will be shown at 3:30 p.m. with a panel discussion following about drone use in the military. Help Side will be shown at 6:30 p.m. A documentary premiere for recent Michigan Tech graduate and former basketball player Jillian Ritchie, it is a compelling coming-of-age story that takes on the serious subject of sexual assault.
Among some of the other films screening during the weekend are The Wanted 18, King Georges, Here Come the Videofreex, and T-Rex. Closing the festival is the uplifting and inspiring documentary Mavis! about legendary gospel and blues singer Mavis Staples.
Virtual Reality
The festival will also offer festival goers a chance to try out Oculus Rift virtual reality technology. Projects featured include Herders, which provides an immersive cinematic look into the lives of Mongolian yak herders, and Ferguson Firsthand, which recreates the location of last year's Ferguson, Missouri shooting and allows users to encounter different perspectives on the event.
Festival sponsors include the Michigan Tech Departments of Humanities and Visual and Performing Arts, the Van Evera Distinguished Lecture Series at the Rozsa Center, Student Affairs and Advancement, the College of Sciences and Arts, Pavlis Honors College, University Marketing and Communication, Career Services, Institutional Equity, the Departments of Social Sciences and Computer Science, the Indigenous Issues Discussion Group, Downwind Sports, and the Continental Fire Company. "The amount of support is really great and a sign that the festival is valuable to our culture here," said Smith. "I'm grateful for all of it."
All events are free and open to the public. The festival website with the full schedule and program is online at http://41northfilmfest.org. For more information about the festival and its events, contact Erin Smith at ersmith@mtu.edu.
Michigan Technological University is a public research university founded in 1885 in Houghton, Michigan, and is home to more than 7,000 students from 55 countries around the world. Consistently ranked among the best universities in the country for return on investment, the University offers more than 125 undergraduate and graduate degree programs in science and technology, engineering, computing, forestry, business and economics, health professions, humanities, mathematics, social sciences, and the arts. The rural campus is situated just miles from Lake Superior in Michigan's Upper Peninsula, offering year-round opportunities for outdoor adventure.