Boulders from Eagle Mine on Display at Michigan Tech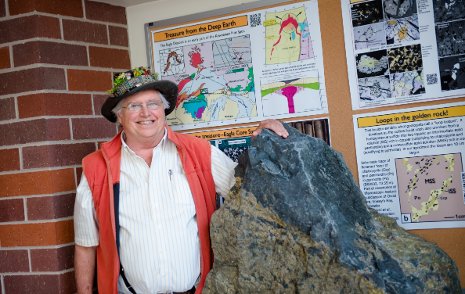 A treasure from deep inside the earth has come to Michigan Tech. Boulders of unique Nickel-copper sulfide rock with platinum and other rare elements—from the Eagle Mine north of Marquette—are now on public display in the lobby of the Dow Environmental Sciences and Engineering Building.
There are three boulders in the exhibit. The largest weighs 3.5 tons. They were excavated from deep in the Eagle Mine and shared with Michigan Tech by Lundin Mining.
The boulders represent a new kind of ore deposit that is being mined with environmental responsibility, said Professor Emeritus Bill Rose, who led the development of the exhibit. "This kind of mining is more like dentistry," Rose explained. "It is mined from underneath, through a spiral tunnel, and only high grade ore is extracted."
Dialogue About Mining
Rose's hope is that the boulder exhibit will stimulate rational thinking and discussion about mining, at Tech and in the community. "We want people to come and touch it, talk to it," he said. "We want the public to participate, to get involved and learn rather than just bickering.
"We are hopeful that the campus presence of the boulder, in a place where students and faculty gather every day, will trigger constructive dialogue about mining, its opportunities and threats." Rose went on to say.
Wayne Pennington, dean of Michigan Tech's College of Engineering, called the boulder "not only a remarkable piece of ore. It represents a new method of mining designed to ensure that no legacy situations are left for future generations to deal with.
"This ore is extraordinarily high-grade, and the minerals extracted from it are being used in many modern energy-saving pieces of equipment as well as standard products, all of which benefit people and improve the economy of the region," Pennington went on to say. "We hope that this boulder will serve to encourage open discussions about the values we try to instill in all of our students."
Mining Engineering
Pennington pointed out that Michigan Tech is reinstating mining engineering as a degree program. "We are proud to be returning mining engineering to the programs we offer, ensuring that the mining engineers of the future are well-trained in environmental issues, business and sustainability," he said.
John Gierke, chair of geological and mining engineering and sciences, thanked Rose, the Lundin Mining Corp. and Michigan Tech alumnus Wilhelm Greuer, who works for Lundin, for their efforts to bring the boulder to Michigan Tech to share with students, faculty, staff and the public.
"While a critical aspect of geology is identifying rocks and minerals, many of us find more fascination in understanding formation processes of and occurrence conditions for natural resources," Gierke said. "The boulder specimen and accompanying displays illustrate not only a beautiful rock, but also the unusual circumstances that led to this unique deposit and its discovery."
Greuer underwrote the transportation of the boulders to campus. He is scheduled to speak at the dedication of the exhibit at 11:15 a.m., Oct. 6 in the Dow lobby. John Yellich, director of the Michigan Geological Survey, will also speak, as will Dean Pennington; Matt Seigel, associate professor of humanities and founding editor of PANK; and Charles Brumleve, a representative of the Keweenaw Bay Indian Community, who will articulate the Native American concerns about this mining.
Michigan Technological University is a public research university founded in 1885 in Houghton, Michigan, and is home to more than 7,000 students from 55 countries around the world. Consistently ranked among the best universities in the country for return on investment, the University offers more than 125 undergraduate and graduate degree programs in science and technology, engineering, computing, forestry, business and economics, health professions, humanities, mathematics, social sciences, and the arts. The rural campus is situated just miles from Lake Superior in Michigan's Upper Peninsula, offering year-round opportunities for outdoor adventure.