Teachers Work on New Ways to Teach Middle-School Science This Week at Three Universities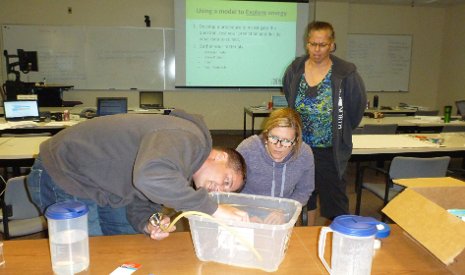 Middle-school science teachers from across Michigan are back in school themselves this week at Saginaw Valley State University (SVSU), Grand Valley State University (GVSU) and Michigan Technological University, working on a new and better way to teach middle-school science.
They are participating in the Michigan Science Teaching and Assessment Reform (Mi-STAR) program. Learning ways to connect the sciences to each other and to real-world problems, biology, chemistry, physics and earth sciences teachers are working together to create a new kind of science curriculum, one that crosses the traditional boundaries between science subjects and engineering and focuses on solving real-world science problems such as ensuring access to clean water and sustainable sources of energy.
Herbert H. and Grace A. Dow Foundation
Mi-STAR is funded by a $5 million, three-year grant from the Herbert H. and Grace A. Dow Foundation in Midland, Mich. The program is developing a model for reforming middle-school STEM education, including a new curriculum, updated teacher education and teacher professional development.
Four Universities are partners in the Mi-STAR project: GVSU, SVSU, Western Michigan University and Michigan Tech. Three other universities are providing faculty: Michigan State, Eastern Michigan and Central Michigan, and at least seven public school districts are now involved, with more expected to join as the project ramps up.
Science and Engineering
Mi-STAR focuses on integrating the sciences and engineering to focus on using science and engineering to address real-world problems and investigate topics that students are important to students' lives.
"Mi-STAR is truly a groundbreaking project," says Jacqueline Huntoon, who is leading the program. "It is the first time that educational leaders from K-12, universities, professional associations and industry have come together to create a research-based, regionally focused, integrated middle-school science curriculum."
Huntoon, who is dean of the Graduate School at Michigan Tech, went on to say, "Ultimately, the goal of Mi-STAR is to engage middle school students in science in meaningful and relevant ways that show them how science truly impacts every aspect of day-to-day life and can be used to address society's challenges."
Michigan Technological University is a public research university founded in 1885 in Houghton, Michigan, and is home to more than 7,000 students from 55 countries around the world. Consistently ranked among the best universities in the country for return on investment, the University offers more than 125 undergraduate and graduate degree programs in science and technology, engineering, computing, forestry, business and economics, health professions, humanities, mathematics, social sciences, and the arts. The rural campus is situated just miles from Lake Superior in Michigan's Upper Peninsula, offering year-round opportunities for outdoor adventure.