Minerick Named Associate Dean for Research and Innovation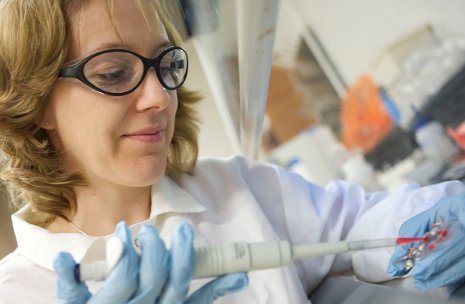 Wayne Pennington, dean of the College of Engineering at Michigan Technological University, announced that Adrienne Minerick, professor of chemical engineering with an adjunct appointment in biomedical engineering, has been named the College of Engineering's first associate dean for research and Innovation.
In her new position, Pennington said Minerick will coordinate faculty and staff engagement with each other and with agencies that fund research projects, ranging from single-investigator one-year projects to complex multi-disciplinary projects involving several institutions and spanning years.
"In addition," he said, "Dr. Minerick will interface with our colleagues in Washington DC, especially our federal relations agency, Federal Science Partners, to help place Michigan Tech at the forefront of interaction with funding agencies and other important groups."
Commercialization of Technology
Carl Anderson, former associate dean for research, retired recently. According to Pennington, the position has been expanded to include "innovation" as part of the associate dean's duties. "The addition further expands the University's goal of economic and social development, including support of technology commercialization," the dean said.
Pennington called Minerick uniquely qualified to help move the College of Engineering, and the University as a whole, toward its goals.
"Adrienne is one of our leading researchers, working in the constantly-expanding areas of health science and engineering," he said.
"But she has also successfully created a start-up company based on some of her research, and the interaction of that company with the University, the SmartZone, Superior Innovations and other groups engaged in economic development, provides valuable experience that she can use to assist others to do the same."
Minerick joined the Michigan Tech faculty as an associate professor in 2009 and was recently promoted to professor.
NSF Career Award
She has received numerous honors and awards including the distinction of Fellow of the American Association for the Advancement of Science, a CAREER Award from the National Science Foundation, the Raymond W. Fahien Award from the American Society of Engineering Education and Michigan Tech's Fredrick D. Williams Instructional Innovation Award.
"I am honored and excited about this position and the opportunities we can build for Michigan Tech and our talented researchers." Minerick said.
Her appointment is effective July 1.
Michigan Technological University is a public research university founded in 1885 in Houghton, Michigan, and is home to more than 7,000 students from 55 countries around the world. Consistently ranked among the best universities in the country for return on investment, Michigan's flagship technological university offers more than 120 undergraduate and graduate degree programs in science and technology, engineering, computing, forestry, business and economics, health professions, humanities, mathematics, social sciences, and the arts. The rural campus is situated just miles from Lake Superior in Michigan's Upper Peninsula, offering year-round opportunities for outdoor adventure.