Alex Mayer Receives 2015 Research Award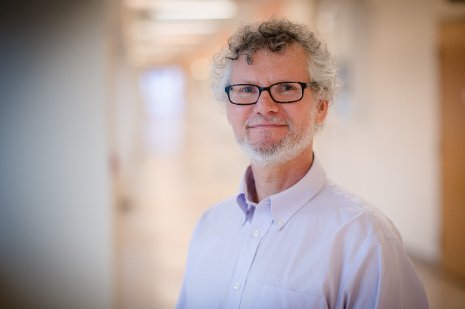 Water is perhaps the most controversial natural resource in the US. Alex Mayer recognizes that, for all its controversy, water is essential to life and society. Mayer holds the Charles and Patricia Nelson Presidential Professor in civil and environmental engineering at Michigan Technological University and studies water resources. For his dedication to studying water quality and scarcity — and his unique approach to these complex problems — Mayer won Michigan Tech's 2015 Research Award.
Dave Hand, chair of the Civil and Environmental Engineering Department, nominated Mayer for the award.
"Alex is the complete package," Hand says, adding that Mayer is an exceptional teacher, strong researcher and a valuable citizen in the campus community. In 2009, he received Michigan Tech's Distinguished Service Award. "His success lies in his in-depth knowledge of water issues in the natural environment and his ability to pull together the expertise required to solve complex problems."
Collaboration is indeed a hallmark of Mayer's research methods. He works not only across disciplines with other academics, but uses what is called participatory modeling to engage local community stakeholders.
"My research focuses on making water resources sustainable," Mayer says, explaining that sustainability requires buy-in from people in the community. Participatory modeling is based on building up local stakeholders' knowledge and involving them in developing water resource models. He adds that opening up people's worldviews is the most important, but perhaps most difficult, part of his work. "Everyone has their own kneejerk reactions when it comes to politics and culture and religion — you have to overcome those in order to work on solutions together."
Mayer applies this principle by transcending "the outside expert" model. When he and his colleagues come to a community struggling with water scarcity, Mayer says he doesn't lecture, he becomes a co-learner. The collaboration goes beyond interdisciplinary — it's transdisciplinary and connects to people outside academia. And for his part, he knows what he can offer: knowledge and expertise in understanding the water cycle and water infrastructure. With others offering similar skills in community development, agriculture, law and local know-how, together they can more effectively sort through problems and pursue solutions.
That's why Mayer firmly believes in transdisciplinary work. He says it is key to engaging and empowering communities to learn the science and technical aspects behind water scarcity and quality issues. Knowing that — and having the right tools, including the models Mayer helps develop — enables stakeholders to take action, whether that's installing better irrigation systems or monitoring local water quality. Currently, Mayer works in Southwestern communities, and he is now part of a new project along the Rio Grande in New Mexico and Texas.
Even though much of his current research is far away, Mayer explains that the effectiveness of participatory modeling is an extension of the Michigan Tech campus community. The small size and rigor of research combine to make powerful interdisciplinary possibilities. He says receiving the 2015 Research Award is a reflection of the importance of transdisciplinary work at Michigan Tech, and a small but proud smile crosses Mayer's face when he says he is honored to join the ranks of researchers he tries to emulate.
"I have to thank my colleagues for their patience as I learn about what they do — the languages they use in their disciplines, their thought processes and paradigms — it's definitely enriching, and I learn new ways to think," Mayer says, adding that collaborators outside his own field tend to ask the most challenging research questions. He also says it has humanized his research.
"Collaborating with so many people helped me go from solving pure science problems to solving people problems," he says.
And in the world of water resources, connecting with people makes all the difference.
Michigan Technological University is a public research university, home to more than 7,000 students from 54 countries. Founded in 1885, the University offers more than 120 undergraduate and graduate degree programs in science and technology, engineering, forestry, business and economics, health professions, humanities, mathematics, and social sciences. Our campus in Michigan's Upper Peninsula overlooks the Keweenaw Waterway and is just a few miles from Lake Superior.