Ford Motor Company Donates Support for Women in Engineering Scholarships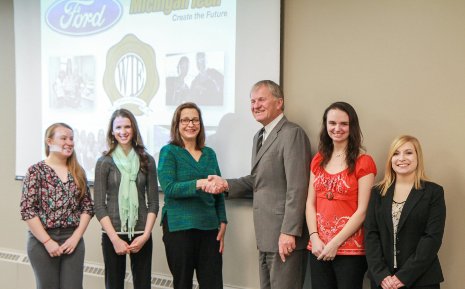 Science, math and classes are normally the farthest things from a high school student's mind during summer vacation. But every summer about 150 pre-college women trek up to Michigan Tech to participate in Women in Engineering (WIE), a scholarship program and an intensive, exciting week-long look into engineering careers. For some, it's a life-changing experience.
This year, WIE and the young women attending will be able to do even more, thanks to a $10,000 donation from Ford Motor Company.
Tech alumna Cynthia Hodges, representing Ford Motor Company, presented Michigan Tech with the company's check. Hodges earned a bachelor's and master's degree in mechanical engineering at Michigan Tech and participated in WIE herself in 1980. She is also on a committee at Ford Motor Company called Girls in STEM (Science, Technology, Engineering and Math), which encourages women into STEM fields, especially engineering. So when an opportunity came to support another program at Michigan Tech, Hodges knew which one she wanted.
"Ford Motor Company is pleased to support the WIE program at Michigan Tech," said Hodges, who is chassis supplier technical assistance site manager at Ford. "We recognize how important it is to encourage young women to study engineering. As an alumna of the WIE program myself, I know how the program really helped me determine I wanted to be an engineer. It's great to be a part of this wonderful program."
Hodges presented Ford's check in the John Edgar McAllister Welcome Center. Many people came to celebrate this donation. Brent Burns, director of industry relations at Michigan Tech, introduced the speakers. Cody Kangas, director of the Center for Educational Outreach, said, "Every summer we look forward to WIE."
Then four WIE alumnae - Rachel Kloc, Monica Lester, Maggie Stangis and Kara Bakowski - stepped up to speak on the experience they had at the program and how it changed their lives.
President Glenn Mroz talked about the employment rate and how the number of people earning degrees is ever-changing process but those with degrees are needed. "These kinds of things do make a difference," he said.
Finally, Hodges spoke, emphasizing the importance of WIE. "When people ask me what has changed my life, WIE did," she said.
Kangas said, "Ultimately, the short-term effect of this donation is that 10 more women will be getting scholarships for this summer, but long term, these women have a bigger potential to become engineers and to come to Michigan Tech."
WIE also has a Superior Ideas page, where Ford Motor Company's contribution is shown along with others. Superior Ideas is a crowdfunding website at Michigan Tech that helps bring university research and public service projects to life. To contribute to WIE, go to http://www.superiorideas.org/projects/women-in-engineering.
Michigan Technological University is a public research university founded in 1885 in Houghton, Michigan, and is home to more than 7,000 students from 55 countries around the world. Consistently ranked among the best universities in the country for return on investment, the University offers more than 125 undergraduate and graduate degree programs in science and technology, engineering, computing, forestry, business and economics, health professions, humanities, mathematics, social sciences, and the arts. The rural campus is situated just miles from Lake Superior in Michigan's Upper Peninsula, offering year-round opportunities for outdoor adventure.