Clean Snowmobile Challenge Winners: University of Wisconsin-Madison, Lapland University of Applied Sciences and North Dakota State University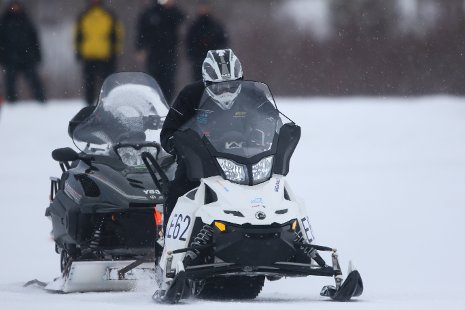 Continuing with a year of firsts, the winning teams of the Clean Snowmobile Challenge 2015 showcase rookies, first-time champions and a new category.
After years of tough competition, the University of Wisconsin-Madison took home the MacLean-Fogg traveling cup for their internal combustion sled in the challenge's most competitive category. Within the new diesel utility category, North Dakota State placed first. Having traveled over 27 hours to Houghton, Michigan, the Finnish team of students from the Lapland University of Applied Sciences celebrated their first year as the top zero emissions team.
"We came in not knowing how we were going to do," says Jennifer Bartaszewicz, team captain for the University of Wisconsin-Madison. "Throughout the week we started feeling more confident, but we seemed neck and neck with other teams."
The challenge was exceptional this year, with the most participants and successful sleds competing in events. As a student competition, the Clean Snowmobile Challenge pushes teams to design, build and test cleaner, quieter snowmobiles. Michigan Technological University has hosted the competition for 13 years at its Keweenaw Research Center.
The challenge began several years earlier in Yellowstone National Park, where snowmobile access is contested because of emissions and noise. This real world application sets a high bar for students and their clean snowmobile designs.
Once the teams have passed inspection, which is overseen by professional engineers, the teams compete in a long-distance run, emissions and noise tests, handling, acceleration and technical presentations. Students enter their sleds in one of three categories: internal combustion, diesel utility and zero emissions.
Internal Combustion
The lab emissions test tends to be the most nerve-wracking for the students. The team's sled is partially disassembled and hooked up to equipment that reads the engine's force and the chemicals coming out of the exhaust. To do so, the lab volunteers go full throttle and push the snowmobile to its max. Sometimes the engines get red hot, and the test is commonly the only event with serious fire danger.
Team captain Bartaszewicz sits on a stool just ten feet from the University of Wisconsin-Madison snowmobile. Her teammates gather around her, earplugs blocking out the high whine of the engine. All eyes are fixed on a screen with test readouts. From everyone's expressions, no one would guess this is the champion sled.
"It's heart-breaking, watching all your hard work for the past year get tested in a matter of minutes," commented one team member. "This is the make-it or break-it event."
And the University of Wisconsin-Madison not only made it, but won it. Based on the results of their emissions test, they took home not only first place in internal combustion, but also the lowest emissions, best design and sportsmanship awards.
"We want to challenge students to create better, cleaner and quieter sleds," says volunteer Sean Egmon, the director of services for AVL North America, which oversees the emissions test. "It's not easy, but some of these teams were innovative and really rose to the occasion."
Several other universities made noteworthy modifications that won awards for their internal combustion sleds.
Kettering University won second place overall and was honored with best fuel economy, quietest snowmobile, lowest in-service emissions and most practical design awards.
Ecole de Technologie Superieure won third place overall, along with the best performance award for surpassing all noise and emissions requirements while garnering the highest total scores in acceleration and handling.
The University of Idaho received awards for best handling and the Founder's Trophy for most sportsmanlike attitude. They also won the best engine design award for how they addressed mechanical resonation and implemented an exhaust gas recirculation system.
University of Minnesota-Duluth was also recognized for their exhaust gas recirculation system and water breach dynamometer--winning the team an innovation award. These same design elements won them an award for being the most likely to be manufactured.
The University of Wisconsin-Platteville won best acceleration, reaching a top speed of 69 miles per hour.
Clarkson University was recognized for the best static display for their internal combustion sled, which was part of a Wednesday night showcase open to the public.
Northern Illinois University met a new challenge this year by incorporating a Trail Trac system; the implementation was recognized with a special award. The team also won the most improved snowmobile.
Iowa State University, first-time competitors, won the rookie of the year award.
The University of Minnesota was honored for the team's safety.
Building off the success of last year, a record-setting 11 teams completed the endurance run to Copper Harbor, Michigan. The event has historically winnowed out half the competition's sleds.
Diesel Utility
The diesel category is a new category this year, in which North Dakota State University won first place. SUNY-Buffalo placed second.
"Diesel sleds have different characteristics than gasoline sleds, so it makes sense to have a separate category," says Travis Sims, a team member from North Dakota State University. "They are for hard work versus performance."
Sims' team mate Nathan DuChene agrees and adds, "There is a lot of room for improvement in diesel sleds and we want to push for that."
In the past, diesel sleds competed with the other internal combustion engines, but several sponsors and teams identified a need for a new category. While the clean snowmobile focuses on a particular kind of utility engine, innovations in cleaner and quieter technology could be important for use in agricultural, small engine and other diesel-based industries.
North Dakota State University swept the board for awards in the diesel category, taking home awards for fuel economy, low emissions, noise, design and the bar-pull contest.
Zero Emissions
The Lapland University of Applied Sciences not only won for distance traveled, but for their electric snowmobile in the zero emissions category. They also won the bar-pull contest and range event, which set the second highest record by traveling 18.2 miles.
The South Dakota School of Mines and Technology took second place and Clarkson University took third place.
The zero emissions electric engine category is not an easy division. In fact, the sled designs are more difficult with fewer industry standards to work with. The section is supported by the National Science Foundation (NSF) in hopes of one day designing sleds that are suitable for remote polar research. In some Arctic and Antarctic studies, hydrocarbon contamination from conventional fuel-based snowmobiles is problematic. Snowmobiles like the Finnish team's may one day fill this gap as hauling capacity and battery range improves.
Next Year
The Keweenaw Peninsula is practically guaranteed to have snow, making it an ideal winter wonderland for hosting the Clean Snowmobile Challenge. Next year's weeklong competition will start March 7, 2016.
Jay Meldrum, one of the event organizers and director of the Keweenaw Research Center, hopes to continue expanding the event. He especially hopes for more competitors in the zero emissions and diesel utility categories.
"The gauntlet is thrown," Meldrum says, challenging students to push into these newer and sometimes more challenging arenas. "We now have good competition and success in the internal combustion category, but just a few years ago, barely half the sleds ever made it out of the shop. I want to see this see this in electric and diesel."
To see more photos and updates, check out @MichiganTech and #cleansnowmobile as well as Michigan's Tech flickr.
Michigan Technological University is a public research university founded in 1885 in Houghton, Michigan, and is home to more than 7,000 students from 55 countries around the world. Consistently ranked among the best universities in the country for return on investment, Michigan's flagship technological university offers more than 120 undergraduate and graduate degree programs in science and technology, engineering, computing, forestry, business and economics, health professions, humanities, mathematics, social sciences, and the arts. The rural campus is situated just miles from Lake Superior in Michigan's Upper Peninsula, offering year-round opportunities for outdoor adventure.