Caryn Heldt Receives CAREER Award for Her Virus Removal Work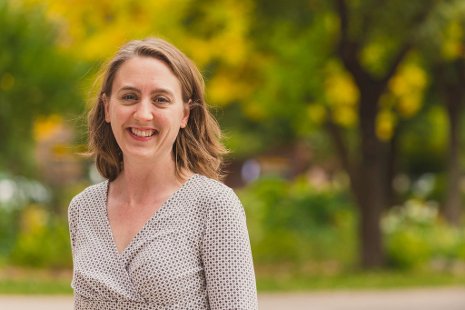 If viruses had boots, they'd be shaking in them. Researcher Caryn Heldt, an assistant professor of chemical engineering at Michigan Technological University, tracks down viruses. She finds ways to remove them from water and biotherapeutic drugs, along with purifying viruses for vaccine production. With a new CAREER Award, Heldt and her research group will be able to focus more on the chemistry of virus surfaces to help develop better removal techniques.
The CAREER Awards are prestigious grants from the National Science Foundation (NSF) to young faculty who effectively integrate research and teaching. Heldt was funded with $525,000 over five years to pursue her virus removal work and education in her Bioseparations Laboratory.
Research
Heldt focuses on technology that is used to remove viruses, and can also be used to clean up a vaccines, which is not like fishing a rogue bit of food out of a drinking glass. It's not even like purifying bacteria in water.
"Virus removal is more difficult than taking out bacteria; they are a lot smaller, and sometimes they can be more chemically inert," Heldt says, explaining that size and chemical properties are further complicated by virus shells.
While viruses don't wear boots, their outer layers of protection do matter in separating them out. There are two groups of viruses: enveloped and non-enveloped. On the outside, enveloped viruses have an intertwined fringe of lipids, which are fat-like molecules, and this actually makes them easier to target for removal. Non-enveloped viruses, however, have a hard protein layer. To date, the only way to remove them is with expensive nanofilters that can only be used once.
"We're interested in finding ways to remove viruses that don't require nanofiltration," Heldt says. Her recent research has focused on using osmolytes. They are chemicals that affect osmosis, the process by which cells keep, transfer and prevent the movement of water.
"You've actually heard a lot about these osmolytes—amino acids are osmolytes, so are a lot of sugars," she explains. Deep sea fish, Heldt says, use osmolytes to keep water and cell volume at healthy levels in a high-salt, high-pressure environment.
Heldt found in her research that glycine, an amino acid, and mannitol, a sugar, cause viruses to clump together, or flocculate. "And we if flocculate the viruses then we can use larger pore- size filters to remove them," she says.
With her CAREER Award, Heldt wants to move beyond just modifying the current virus removal technology.
"We want to take a different approach and learn more about the virus surfaces," she says. "If we have a better understanding of the chemistry of the surface of the virus, then we have a better chance of creating a removal mechanism that is more efficient."
One hypothesis Heldt plans to explore is how much virus surfaces repel water—this hydrophobic tendency is understudied, but could impact virus removal.
Education
Her research inquiries are only part of her plans. Education is an important component of the CAREER Award, an aspect of her work that Heldt excels in.
"I talk to every senior in the chemical engineering department, and they all say wonderful things about her teaching capabilities," says Komar Kawatra, chair of the department. He also recalls a time—seven in the morning—when Heldt contacted him about a cost-share for a research project and Kawatra fully realized her perseverance and dedication.
"I could not say no; the project was funded," he says. "I am very proud that I was the chair of the department when she was hired."
Her dedication is reflected in Heldt's science outreach work. She doesn't simply plan to bring her research ethic into her own classroom, or even a classroom nearby—she plans to bring it into many classrooms about 10 hours away.
"The main educational component is to work with the Wayne County Community College in Detroit," Heldt says, which is where she has collaborated with other researchers to expand research opportunities for the students there. "We want to encourage students by bringing research to their real world."
Heldt and her collaborators do that by having an ecology class gather water samples from the Detroit River, and then biology and chemistry students analyze the samples.
"We're using hands-on research as a way to get these students thinking about different areas and different degrees," she says. "And we want them to see how research is a part of their daily life, and that they can investigate issues that matter to them."
The hope is that students are inspired to continue on to four-year colleges after their two-year program is done. Heldt says she hopes both her research and teaching continues to encourage students to join STEM fields.
Michigan Technological University is a public research university founded in 1885 in Houghton, Michigan, and is home to more than 7,000 students from 55 countries around the world. Consistently ranked among the best universities in the country for return on investment, the University offers more than 125 undergraduate and graduate degree programs in science and technology, engineering, computing, forestry, business and economics, health professions, humanities, mathematics, social sciences, and the arts. The rural campus is situated just miles from Lake Superior in Michigan's Upper Peninsula, offering year-round opportunities for outdoor adventure.