Superior Ideas Challenges Enterprise Students to Help Fund Their Projects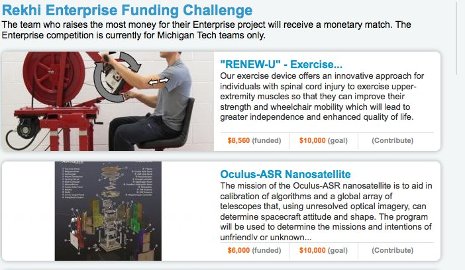 Michigan Tech Enterprise program students are hard-working and innovative, but their creativity can be hindered by their spending limits. That's where Superior Ideas comes in.
Superior Ideas—Michigan Tech's crowdfunding site—helps bring university research and public service projects to life. Superior Ideas established the Rekhi Funding Challenge, supported by alumnus and longtime donor Kanwal Rekhi, to help Enterprise teams gain funding for their projects.
"The challenge is a new concept, and competition is always fun," says Natasha Chopp, research development and marketing manager for Superior Ideas.
The challenge is this: The Enterprise team that raised the most money on the Superior Ideas website within 60 days would receive a matching gift from Superior Ideas and Rekhi. There were also four $100 prizes offered for Best Marketing Plan, Most Unique Donors, Most Unique Visitors and Most Active Social Media.
Some of the Enterprises that participated were International Business Ventures, Robotics Systems Enterprise, Supermileage Enterprise, Aerospace Enterprise, Blizzard Baja SAE Enterprise, Velovations Enterprise, Board Sport Technologies Enterprise, GEAR Enterprise and Open Source Hardware Enterprise. The teams collectively raised $13,746.
Over all, the Velovations Enterprise team took first place in the funding challenge and received the matching gift. They raised $4,280 in just 13 days. The other awards were:
Best Marketing Plan – Open Source Hardware Enterprise
Most Unique Donors – Board Sport Technologies Enterprise
Most Unique Visitors – Board Sport Technologies Enterprise
Most Active Social Media – Board Sport Technologies Enterprise
This challenge was the second one run by Superior Ideas, and the crowdfunding site is hoping to do more in the future. They also hope to expand beyond Enterprise and offer more competitions for different student organizations.
"It is really easy to get involved," says Chopp. "Enterprises can submit their application, help raise awareness for their projects, and gain funding."
If you would like to explore this year's Enterprise projects, visit the Superior Ideas page (www.superiorideas.org/projects/completed-projects/).
Michigan Technological University is a public research university founded in 1885 in Houghton, Michigan, and is home to more than 7,000 students from 55 countries around the world. Consistently ranked among the best universities in the country for return on investment, the University offers more than 125 undergraduate and graduate degree programs in science and technology, engineering, computing, forestry, business and economics, health professions, humanities, mathematics, social sciences, and the arts. The rural campus is situated just miles from Lake Superior in Michigan's Upper Peninsula, offering year-round opportunities for outdoor adventure.