Michigan Tech Archivists Preserve the Past for the Future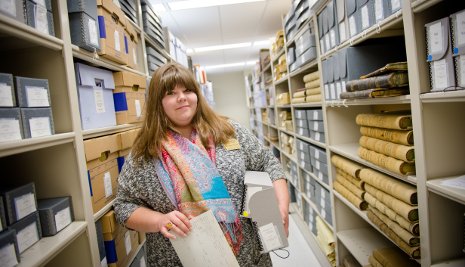 Did you know Michigan Tech had its own comic superheroes? Tech Team, created by Norman Breyfogle, saved our campus once in the handcrafted comic strips; and now they sit preserved and maintained in the Michigan Tech Archives for viewing as one of many unique items preserved there.
Michigan Tech realized in the 1930s that it would be beneficial for important historical titles to be separated from the normal library stacks, but space limitations prohibited moving them at the time. During the construction of the new library, a reading room and storage area were designed for the archives and were ready for use in July 1966. With the new space, the archives could actively collect local history materials and in 1978, Michigan Tech committed to the program by hiring its first professionally trained archivist.
Lindsay Hiltunen is the current senior archivist. She is a Michigan Tech alumna who received two master's degrees: in library science and United States history. She specialized in archives, rare books, special collections, 20th century labor history and European history.
"We receive a lot of donations about Michigan Tech history and Copper Country history," says Hiltunen. '"We are selective in our collections because we want to stay within the constraints of these themes. We look for the social histories of our area and our university." The archives also collects materials related to other aspects of local history, including cultural, industrial, and environmental themes. The three most popular mining company collections in the archives are the Quincy Mining Company Collection, the Calumet and Hecla Mining Company Collection and the Copper Range Company Records.
There are selection standards that must be met before gifts come in and a dedicated collection policy that must be adhered to. If the gift does not meet these requirements, it is either given back to the original donor or donated to another archives or museum.
Once a gift is accepted, the archiving process begins. It's more complicated than you might think:
Accessioning - This step involves taking intellectual control of the collection by entering it into the database and creating a collection access number.
Processing - This step involves arrangement and description of the collection. It is put in order, and all contents are described in a "finding aid."
Cataloging - A detailed record is created during this step, and the record becomes available and discoverable through the library catalog.
The collection is then finally put on the stacks in the archives and made available to researchers.
The archiving process also helps identify gifts that need preservation. "Preservation is of the utmost concern," acknowledges Hiltunen. "So occasionally when we are working with a collection, we will notice an item needs conservation treatment."
The archives staff does conservation work when the need arises—whether it's when a collection is donated, during processing or even after researchers have used an item. Examples of in-house conservation work that the archives does are humidification of paper-based collections, basic book repair and cleaning—vacuuming dust, removing dead mold, etc. A lot of time is put into making the collections accessible and long-lasting for future researchers.
The Michigan Tech Archives are a newly minted Keweenaw Heritage Site, a program in partnership with the National Park Service to interpret the region's copper mining heritage. As a new heritage site, the archives is now offering behind-the-scenes tours of the collection stacks and a glimpse at what the archivists do. The public can also stop by and see what the archives have to offer during normal business hours, Monday-Friday, 10 a.m. to 5 p.m. Tours are available Monday, Wednesday and Friday from 10 a.m. to 12 p.m. For more information, contact the archives at 906-487-2505 or e-mail copper@mtu.edu.
Michigan Technological University is a public research university founded in 1885 in Houghton, Michigan, and is home to more than 7,000 students from 55 countries around the world. Consistently ranked among the best universities in the country for return on investment, the University offers more than 125 undergraduate and graduate degree programs in science and technology, engineering, computing, forestry, business and economics, health professions, humanities, mathematics, social sciences, and the arts. The rural campus is situated just miles from Lake Superior in Michigan's Upper Peninsula, offering year-round opportunities for outdoor adventure.