German Exchange Programs Broaden 3 Tech Students' Horizons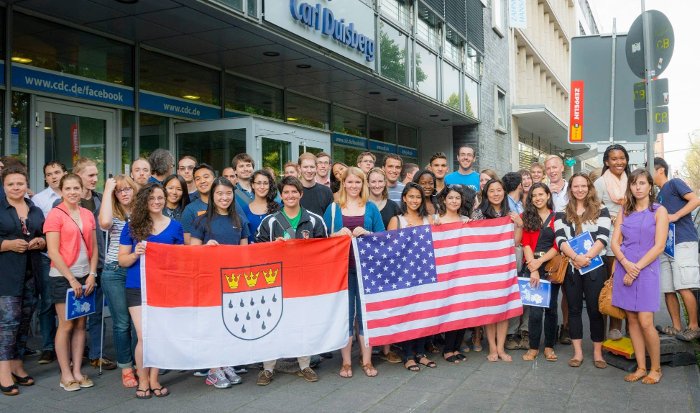 College can open so many doors that have endless possibilities behind them. This summer, three Michigan Tech students opened the door to Germany with Research Internships in Science and Engineering (RISE) scholarships and the Congress-Bundestag Youth Exchange for Young Professionals (CBYX) program.
Jacob Braykovich, a fifth year materials science and engineering major, won a RISE scholarship, provided by the German Academic Exchange Service (DAAD.)
DAAD is the German national agency for the support of international academic cooperation. Its programs help create goodwill and professional relationships to help build a solid connection between Germany and North America. The scholarships are highly competitive, and the recipients are chosen by independent selection committees on the basis of outstanding academics and convincing project proposals/statements of purpose.
Research Internships in Science and Engineering
"I wanted to do something unconventional for the last summer as a college student," says Braykovich. "Internships obtained from the Career Fair for the big name corporations are not something that fits my personality or specific work interests, so I looked online for internships for my degree in Europe and found the RISE program. They had hundreds of opportunities all over Germany for every possible engineering/science major, so I had plenty to choose from. My project was to optimize AWIJ (abrasive water injection jetting) cutting techniques for the production of myocardial graft materials."
Being in a new country and culture can be overwhelming, especially if you have not studied the language, like Braykovich. But, the most challenging experience can also produce the greatest reward.
"The most rewarding experience was really becoming vulnerable in a situation and learning from it," notes Braykovich. "I didn't know anyone going to a new country, didn't know the language and very little about the culture, but I came home in August with an entirely new perspective on life. I was traveling to a new city or country most weekends on my own, which was a very tough experience. Forcing myself to soak up as much as I could was the most rewarding and challenging parts at the same time. Putting myself completely out of my comfort zone in some of these places and leaving with memories that will stay with me for the rest of my life is something that is hard to explain to someone who has never traveled."
CBYX
While Braykovich has returned to Michigan Tech, Marissa Flowers, a dual major in biomedical engineering and mechanical engineering, and Courtney Schumaker, who is majoring in sound design, are still in Germany with the Congress-Bundestag Youth Exchange for Young Professionals (CBYX). Another highly competitive and internationally recognized program, it is backed by the US Department of State.
As American ambassadors in this program, it is their responsibility to represent our nation, convey their experiences in Germany once they return home, complete language training, study at a German university, intern for a German-speaking workplace and immerse themselves in the community by volunteering. The goal of the program is to strengthen ties between the people of the US and Germany on an individual level.
Both Flowers and Schumaker wanted to go to Germany because of previous language lessons and the desire to travel abroad. Both have had their most rewarding experiences so far with their host families.
"My host. Oma, is 75, and the week I got here, the basement flooded," shares Schumaker. "I knew enough German to be able to communicate with her and help her clear things out. She was very thankful, and I was very happy that I could be there to help." Flowers adds, "My host family laughs at me when I pronounce words like an American, but it's all in good fun, and I have really progressed since I got here."
All three students encourage others to apply for these types of experiences and expand their horizons.
"It's not easy to pick up your life and move to a new country for an extended period of time, especially if the language is foreign," says Schumaker. "The experience is so worth it, though. When you remove yourself from your own culture and immerse yourself in one that is unfamiliar, you learn so much about yourself and what types of things you really value as a person. You realize the things you took for granted back home, and you also pick up new ways to bring back with you."
Michigan Technological University is a public research university founded in 1885 in Houghton, Michigan, and is home to more than 7,000 students from 55 countries around the world. Consistently ranked among the best universities in the country for return on investment, Michigan's flagship technological university offers more than 120 undergraduate and graduate degree programs in science and technology, engineering, computing, forestry, business and economics, health professions, humanities, mathematics, social sciences, and the arts. The rural campus is situated just miles from Lake Superior in Michigan's Upper Peninsula, offering year-round opportunities for outdoor adventure.