Michigan Tech Hosts Mineral Processing Experts from Around the World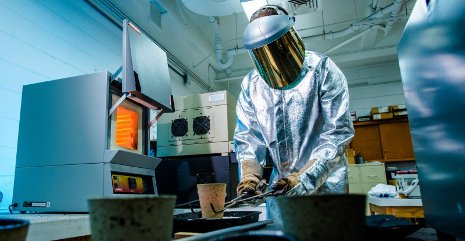 The Advanced Sustainable Iron and Steelmaking Center (ASISC) at Michigan Tech is hosting its fourth annual meeting in Houghton on August 14-15, 2014. The annual meeting is a gathering of professionals from the mining and mineral processing industry.
ASISC members pool resources to address a diverse spectrum of interdisciplinary research questions. During the meeting they share their work and experiences to further the development of a new generation of sustainable, economical mineral processing technologies.
ASISC meeting organizers are Samuel Roache and Howard Haselhuhn, both PhD students in chemical engineering advised by Professor and Department Chair S. Komar Kawatra. "
More than 20 presentations are scheduled for the two-day meeting. Plenary speakers are Laurindo S. Leal Filho, Vale Technological Institute; Dennis Murr, Barr Engineering; Paul Metz, University of Alaska Fairbanks; Mingming Zhang, ArcelorMittal; and D.P. Chakraborty, Tata Steel.
This is a special year for ASISC," says Haselhuhn. "Not only will meeting attendance be the highest ever at 56 guests, it will have representation from eight countries and 25 companies."
"The mineral processing industry strives to make continuous improvements in technology," Haselhuhn adds. "Many of these improvements have been small and locale-specific, but once in a while there is a giant step forward that can bring about a new era in the industry. These dramatic improvements will be necessary to remain a sustainable industry. Unlike many industries, the feedstock (iron ore) is constantly degrading in quality. Eventually, it will not be feasible to process unless new methods are developed."
Michigan Technological University is a public research university founded in 1885 in Houghton, Michigan, and is home to more than 7,000 students from 55 countries around the world. Consistently ranked among the best universities in the country for return on investment, the University offers more than 125 undergraduate and graduate degree programs in science and technology, engineering, computing, forestry, business and economics, health professions, humanities, mathematics, social sciences, and the arts. The rural campus is situated just miles from Lake Superior in Michigan's Upper Peninsula, offering year-round opportunities for outdoor adventure.