Linda Ott Receives Michigan Tech's Inaugural Diversity Award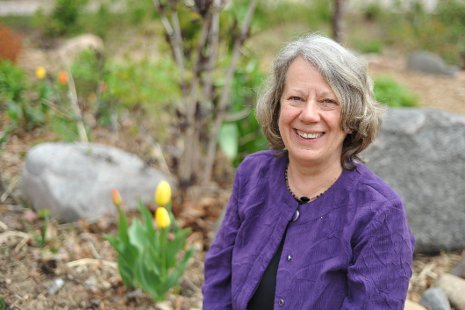 Back in the early 1980s, about 35–40 percent of the undergraduates in Linda Ott's introductory computer science courses were women. Since then, that number has been on a downward slide.
There's no good reason for that, says Ott, a professor of computer science at Michigan Technological University. "Many of those early students went off and had amazing careers," she said. "It really troubles me that so many young women don't understand what exciting, rewarding careers they can have in computer science."
Ott decided to do something about it. For the last 25 years, she has devoted a large chunk of her time and energy to opening the eyes of women and girls to the joys, both personal and financial, of a computer science education. For her efforts, she has become the first recipient of Michigan Tech's Diversity Award.
The award "recognizes the accomplishments of a faculty and/or staff member who contributes to diversity and inclusion through exemplary leadership and actions."
"Linda is the key figure behind the highly successful Women in Computer Science summer programs," wrote Charles Wallace, associate professor and interim chair of computer science, who nominated her for the award. She also hired four female computer science faculty members and initiated the department's sponsorship of the Grace Hopper Celebration of Women in Computing, supporting students who attend the annual event.
Ott spearheaded an effort to have the computer science department included in Pacesetters, a program with the National Center for Women and Information Technology (NCWIT) devoted to increasing the number of women in computing. She also initiated the Michigan NCWIT Aspirations in Computing Awards, which recognize high school girls for their computing skills and interests. And she is a founder of the Michigan Celebration of Women in Computing conference, aimed at supporting female computing students.
Ott has been working with Admissions to increase the number of women enrolled in computing programs, from phoning applicants to hosting a Google Hangout for prospective students. "Linda is passionate about encouraging young women to pursue careers in computer science," wrote Allison Carter, director of admissions. "In just one year, her efforts are paying off." Applications have risen 14 percent in the year that Ott has been involved in recruitment.
Ott also earned praise from Laura Dillon, a professor of computer science at Michigan State University, who cited her many accomplishments, including efforts to bring more minorities into computing. In particular, she helped lead the Pan-American Software Quality Institute in Costa Rica, reaching out to Latin American students, who are underrepresented in computer science programs.
"Linda is passionate about increasing diversity in computing," said Dillon. "She has worked tirelessly and has put in countless volunteer hours to inspire women and minorities to pursue their interests and realize their potential. She is exceptionally reliable, and she gets the job done. Moreover, her can-do attitude and good humor make her a delight to work with."
Ott believes the gender imbalance started when boys began to co-opt school computers to play games and girls began to drift away. But that's only part of the problem.
"Boys get the message that computing is a great career, but girls don't, and that drives me crazy," she said. "Computer programming is so exciting, so rewarding, and it impacts everything. And girls don't know this."
Ott took her first programming class in high school and was hooked. "I was attracted to computing because of the thrill of seeing programs that I wrote actually solve real problems," she said. "I think it's terrible that most students don't have that opportunity anymore." Most schools don't even offer a legitimate computer science course, and the few that do don't require it for graduation. "If it's not required, it's easy to talk yourself out of it," she said. "But somehow the guys still give it a shot, and the girls don't."
"That's what's driven me to be involved with high school kids," said Ott. "I looked at what was going on and decided somebody's got to do something, and it might as well be me."
Ott said she felt honored to receive Michigan Tech's first Diversity Award. "It is really exciting that the University is making this kind of recognition," she said. "I'd also like to express my gratitude to the retired faculty and staff who worked before me and with me on a range of diversity issues. Their efforts haven't been recognized in such a public way, but they've done so much to make Michigan Tech a better place for everyone."
Five other members of the University community were nominated for the Diversity Award. They include
• Adrienne Minerick, associate professor of chemical engineering, for her efforts to improve diversity in STEM programs;
• William Predebon, chair of mechanical engineering–engineering mechanics, for spearheading initiatives to increase the diversity of his department's faculty, students and staff;
• Jacque Smith, director of graduate enrollment services, for efforts to recruit members of underrepresented groups, particularly to the STEM disciplines, and to provide them with support;
• Darnishia Slade, assistant director of international programs and services, for a variety of endeavors that support the success of women, minority and international students; and
• Thy Yang, director of international programs and services, for hosting programs that help integrate international students into the culture of the Copper Country and the US, from traditional Thanksgiving dinners to trips to the Mall of America.
Michigan Technological University is a public research university founded in 1885 in Houghton, Michigan, and is home to more than 7,000 students from 55 countries around the world. Consistently ranked among the best universities in the country for return on investment, Michigan's flagship technological university offers more than 120 undergraduate and graduate degree programs in science and technology, engineering, computing, forestry, business and economics, health professions, humanities, mathematics, social sciences, and the arts. The rural campus is situated just miles from Lake Superior in Michigan's Upper Peninsula, offering year-round opportunities for outdoor adventure.