Kathleen Halvorsen Wins Research Award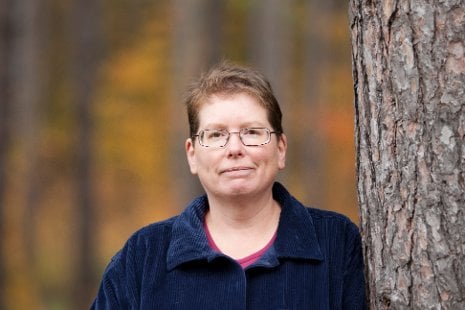 Kathleen Halvorsen, whose scholarship bridges social and policy sciences relating to climate change, has been chosen to receive Michigan Technological University's 2014 Research Award.
Professor Alex Mayer, who nominated Halvorsen for the award, called her "a major force in joining social science with natural science and engineering disciplines." She is a professor in both the Department of Social Sciences and the School of Forest Resources and Environmental Science.
"[H]er most noteworthy contributions are advancing research into biologically derived fuels, fostering interdisciplinary research and spearheading Michigan Tech's environmental and energy policy graduate programs," Mayer said. "Professor Halvorsen has shown a remarkable ability to bring literally dozens of colleagues together to craft proposals and lead projects which advance science and international collaborations across continents."
Thomas Dietz of Michigan State University agreed. In a letter supporting her nomination, he recognized the high level of cooperation among Michigan Tech faculty. "But it wasn't until Kathy Halvorsen joined your faculty . . . that I become aware that Michigan Tech was also a pioneer in integrating the social sciences into the study of natural resources," he wrote. "When I point out to colleagues around the country the high caliber of work being done at Michigan Tech, she is always part of the examples I give."
C. Clare Hinrichs of Penn State also cited Halvorsen's successful efforts to bring together social scientists from various disciplines. "She is building an important model of integrated (and international) interdisciplinary research that addresses some of the most pressing social and environmental issues of our day."
Halvorsen has led or co-led several interdisciplinary research initiatives on biofuel development and its environmental, social and economic implications, including a $4.8 million National Science Foundation PIRE project that encompasses biofuel issues throughout the Americas. A key finding, that increasing biofuel production could harm the environment, has influenced policymakers, Mayer said.
Halvorsen's research is driven by concern about Earth's changing climate. "All of my work focuses on climate change: how we can mitigate or reduce it, how we can adapt. My work on bioenergy is about reducing the effects of catastrophic climate change, and my work on water is about managing resources in the face of climate change."
With Mayer, she helped natural resource professionals in New Mexico use models that will allow them to better manage the region's scarce water supply. She has also studied the policy contexts for bioenergy projects.
"We've found that there's a lot of potential for bioenergy production and lots of public support, but there are problems with implementation," she said. For example, the developers planning one woody biomass facility did not realize that there would be little market for their ethanol in the current regulatory climate. "They pulled out," Halversen said, adding, "Companies promise facilities and jobs to local communities, and then everything falls apart. It's better to think things through ahead of time."
Halversen gets great satisfaction assembling teams of researchers to tackle complex problems. "Michigan Tech is particularly competitive this way," she said. "We are small enough to know each other and big enough to have a critical mass of environmental sustainability expertise. And, we have a lot of people with whom it is a pleasure to work.
"That's one of the reasons we've been so successful getting NSF grants," she added. "I give a lot of credit to our administration, which brought together a critical mass of faculty so we can conduct these studies."
"I'm greatly honored and excited and appreciative to receive the Research Award, but I view it as an award to my collaborators as much as to myself," she said. "I couldn't have done it without them." She also credited the University for its support of interdisciplinary initiatives focused on sustainability, such as at the Sustainable Futures Initiative.
Nominators also praised Halversen for exceptional mentoring and teaching. Said one of her students, "She deserves a million awards."
Said another, "Kathy taught me many things, but the most important lesson is this: When we put stereotypes and partisan feelings aside, we can seek out our sameness, what connects us as human beings. She has helped me look for the bridges, instead of the walls, between us."
Michigan Technological University is a public research university founded in 1885 in Houghton, Michigan, and is home to more than 7,000 students from 55 countries around the world. Consistently ranked among the best universities in the country for return on investment, Michigan's flagship technological university offers more than 120 undergraduate and graduate degree programs in science and technology, engineering, computing, forestry, business and economics, health professions, humanities, mathematics, social sciences, and the arts. The rural campus is situated just miles from Lake Superior in Michigan's Upper Peninsula, offering year-round opportunities for outdoor adventure.