Quantifying the Qualitative: Tony Orrico's Artistic Works Push the Envelope of Art and Science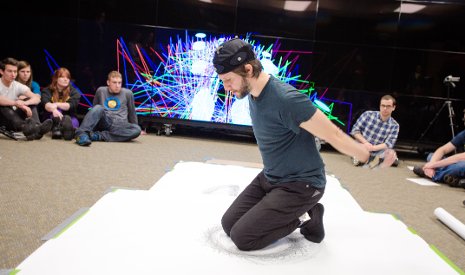 Tony Orrico doesn't make art in the typical sense of the word. His large geometric pieces—plays on the idea of the body as an instrument in artistic expression—gave Michigan Technological University and Finlandia International School of Art & Design students, researchers and the community a chance to connect art and performance with technology, math and science.
Orrico, an artist from Chicago, spoke to Michigan Tech and Finlandia University students about his pieces, inspiration, methodology and the meaning behind his work during visits to Tech and Finlandia campuses last week.
Orrico's visit, an artist-and-STEM residency project, was envisioned by Anne Beffel, professor and chair of Michigan Tech's Department of Visual and Performing Arts, and Carrie Flaspohler, director and curator of the Finlandia University Gallery.
Working collaboratively, Beffel and Flaspohler drew together faculty interested in exploring Orrico's work. They developed projects on both campuses, including a gallery exhibition, a series of lectures hosted by Finlandia and opportunities for Tech faculty.
Two of his pieces—grand displays of repetition and stamina—were performed in Tech's Mind Music Machine Lab (tri-M Lab) for art students at a demonstration open to both universities. Some of his pieces can take hours to make, Orrico explained, but during his visit, he performed two shorter pieces.
For one piece, Orrico knelt on a large sheet of paper, striking it with graphite as he swung his arms in a pendular motion, and slowly revolved atop the mat. For the second, he lay on another piece of paper. He pushed off a wall, jetting himself forward on top of the piece. He dragged his graphite pencils along with him; as he writhed his way back to the starting position over and over again, he left behind him a pictorial history of his motion.
"Tony Orrico is an innovator in art," says Flaspohler. "He brought new ideas and challenged our thinking. He asked all involved in the residency to stretch beyond our self-conceived limits to create opportunities that we can all draw from in the future. He was a generous and insightful artist whose influence will be long felt."
While performing in the tri-M Lab, Orrico had a multitude of sensors attached to his body so his movements, heart rate, and breathing could be recorded by specialized equipment.
Orrico's art presented the perfect opportunity for tri-M Lab researchers to test out their latest programs.
It's an exercise in sonification, explains Myounghoon "Philart" Jeon, assistant professor of cognitive and learning sciences and computer science. "We're taking data—Tony's movements and location—and making them into sound." As Orrico moved across the paper, his coordinates were tracked in Jeon's state-of-the-art lab. Then, the 13 million cells of virtual plots were turned into a tranquil symphony. It was a completely new way to consume his work, the artist says.
"It lets us add deeper dimensions to our understanding of art," adds Jeon, who ultimately hopes to turn the mass of data into a fugue. Orrico will take the data collected and create artwork to be premiered in New York City this spring.
"The students in my creative drawing class are ready for this kind of work, which challenges our definitions of art and its value," says Beffel. "I'm teaching a broad range of students from fields of science, technology, social sciences, math, humanities and engineering. Tony's work shows science, technology and art colliding . . . it's a great example of the collaboration of art and technology."
Orrico's visual-to-aural experiment wasn't only a fun demonstration of sonification technology, though. Jeon says that the type of data his lab recorded during the performances is crucial to a deeper understanding of how artists function.
"There's an interest in how we can help untrained adults or children do art," Jeon explains. "We know we can use technology to help assist in learning and teaching, and this kind of data helps us implement that technology."
That data is exactly what interested all parties from the get-go. Tech and Finlandia students saw the scientific and technological side of the arts. Orrico saw (and heard) his performances in new ways. And tri-M Lab researchers gathered millions of valuable data points.
"This collaboration drew across two universities and multiple academic departments," says Jeon. "There's been a very valuable exchange of information—and that's really our currency."
Flaspohler and Beffel say they hope to continue their efforts to foster dialogue between the two universities and between disciplines.
"We have much to learn from each other," says Flaspohler. "We may not all speak the same technical language, and our tools of expression may differ, but when we work together we can gain new understandings and advance knowledge."
Michigan Technological University is a public research university founded in 1885 in Houghton, Michigan, and is home to more than 7,000 students from 55 countries around the world. Consistently ranked among the best universities in the country for return on investment, Michigan's flagship technological university offers more than 120 undergraduate and graduate degree programs in science and technology, engineering, computing, forestry, business and economics, health professions, humanities, mathematics, social sciences, and the arts. The rural campus is situated just miles from Lake Superior in Michigan's Upper Peninsula, offering year-round opportunities for outdoor adventure.