Supercomputer Helps Model Lakes, Oceans and Much More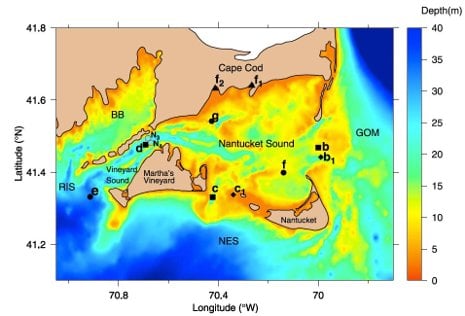 By his barren office in the Great Lakes Research Center (GLRC), one can tell that Pengfei Xue is new to campus. The assistant professor in civil and environmental engineering just started Oct. 1, but he's already hard at work, beginning to model Great Lakes and coastal US regions using Superior, Michigan Technological University's new supercomputer.
He claims the horsepower within Superior is great.
"I'm doing a hydrological dynamics model," he says. "Based on this core, I'll look at ocean and lake status and the impact of climate change on coastal communities."
His computational needs will get higher and higher as he creates his models, Xue says. He shows computer images of Lake Michigan and the Atlantic Ocean near Massachusetts. He did his postdoc at MIT.
The Lake Michigan model shows surface temperatures changing from May to December, and the Massachusetts version shows currents and the changes in the tide around Cape Cod.
"This will be a high-resolution 3D model," he says showing the beginnings, a black and white shell of Lake Superior. Greater details will be possible, he says, and that will mean more accurate status readings.
He's trying to build an integrated model to understand processes in the Great Lakes and their impact on people.
"These could be the what-if questions, such as how could we relocate sewage outflow based on the circulation pattern to minimize its impact on the ecosystem?" Xue says. "How will the projected future climate change impact the water levels, wave energy, sediment transport and shoreline damage of the Great Lakes?"
In addition to the long-term research concerns, he will be looking at short-term, episodic events like algal blooms and weather patterns.
"I'm glad I'm in the right place at the right time," he says. "Superior's got a great deal of computing power, and it's well-managed."
"I do the science part, but I also want to apply my findings."
"We are extremely fortunate to have brought Professor Xue to Michigan Tech and the GLRC," Guy Meadows, director of GLRC, says. "Since his arrival, he has built very strong bridges both within the University and with our government research partners. Thanks to these partnerships, we already have four of the five Great Lakes running on Superior at resolution not previously thought possible."
The Superior Solution
And speaking of Superior, that supercomputer is really busy, according to Gowtham, a research scientist and adjunct assistant professor of physics, who coordinates it use.
"It is running at 75 to 85 percent capacity, which is great for an academic institution," he says. "There is a great variety of research projects, and faculty have gotten their research published in journals and elsewhere, which is great for them and the University."
Warren Perger, professor in electrical and computer engineering and chair of University's High Performance Computing committee, appreciates the diversity of projects run through Superior, and they go well beyond the GLRC.
"From the first meeting with the provost and vice president for research, it was clear to all of us that Tech had an opportunity to recognize scholarly work across campus by offering computational resources to those demonstrating the need," Perger says. "Based on the journal articles generated on Superior to this point, that goal is evidently being realized."
Approximately 20 junior and senior faculty members from 11 different departments and institutes are already using Superior, and it's only been online for five months.
"The diversity of projects using Superior has vindicated the expenditure of funds and the policy we adopted of striving to attain the greatest good for the greatest number," Perger says. "But ultimately funds and computers don't create the research, the investigators do, along with the outstanding efforts of Gowtham to maintain the hardware and software."
And, in typical Tech fashion, "we are using the supercomputer to do real, applied work," Gowtham says.
Michigan Technological University is a public research university founded in 1885 in Houghton, Michigan, and is home to more than 7,000 students from 55 countries around the world. Consistently ranked among the best universities in the country for return on investment, Michigan's flagship technological university offers more than 120 undergraduate and graduate degree programs in science and technology, engineering, computing, forestry, business and economics, health professions, humanities, mathematics, social sciences, and the arts. The rural campus is situated just miles from Lake Superior in Michigan's Upper Peninsula, offering year-round opportunities for outdoor adventure.