Faculty Take Students Abroad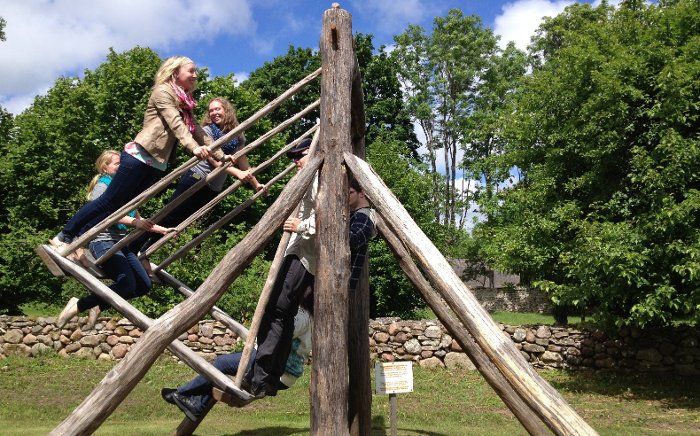 Imagine taking classes at a university in New Zealand. Studying alongside local students in Japan. Exploring historic sites in China. Or experiencing Germany with peers from across the world. Michigan Technological University offers numerous opportunities for students to experience the world while earning Michigan Tech credits.
In Tech's Study Abroad program, under the auspices of International Programs and Services (IPS), about 100 students travel overseas each year. Programs are offered in more than 40 different countries, so students have a variety of options. The most popular country is Germany, which—along with Scandinavia and Scotland—are among the countries that offer courses in science, technology, engineering and mathematics (STEM) fields
The immersion in a country is priceless for students who are studying a language, IPS points out, and it will fulfill the study-abroad requirement for some minors. Students can go abroad through an exchange program or with faculty.
This past summer, Marika Seigel, associate professor in the Department of Humanities, led a student group to Estonia, a small country in the Baltic region.
Seigel's course on professional communication emphasized the importance of an international perspective. Estonia was an ideal learning environment because of its highly developed information technology culture, including online banking, online voting and online government.
The students learned about different communication practices that go on in Estonia in that context," explained Seigel. "They had a chance to visit different businesses and enterprises, such as Microsoft Estonia and a graphic design firm. They completed a client project for a web startup called Traveler Tour and had a chance to actually make client presentations and interact with an Estonian client."
As the faculty academic international coordinator, Seigel also helps other faculty develop their study abroad programs.
Social Sciences lecturer Carl Blair led a group of students to Cumbria, England, to study anthropology, history and archeology, in the fourth year of a "Frontiers and Fortresses" study abroad program.
""I have been working in Cumbria since I was an undergraduate myself," said Blair. "Cumbria gives a perspective on England that you are not going to find in any other place."
Students earn credit in these classes. "This is a Michigan Tech program, taught by Michigan Tech faculty, with regular Michigan Tech classes, so for the students it is a seamless educational experience," said Blair.
And, although students are living in another country immersed in another culture, they travel with faculty they are familiar with. "We are embedded at the university there in Cumbria," said Blair. "We are living at the university; we are conducting classes in the classrooms; we go to the library and do many other things at the university, but it's like a piece of Michigan Tech has been moved to Cumbria."
Whether going abroad with a faculty-lead trip or with an exchange program, typically the program fee is the same as tuition at Michigan Tech, but the cost of living in other countries may be less. Scholarships are available and include the Gilman scholarship and the Class of '74 Alumni scholarship. Financial aid can also be used.
"More Tech students should take advantage of the opportunity to go abroad. We live in a global society, and we have a global campus. It's a two-way street, and you can't just expect the world to come to you," said Blair. "Going out and learning how to negotiate with the world, experiencing the world, is a very important part of any person's education. It doesn't matter what major they are going to study, what career they will be going into. They will be dealing with people from multiple cultures and multiple backgrounds, and the earlier and the more often they go abroad the better. Go anywhere, just get."
For anyone interested in study abroad programs, IPS offers informal information sessions called Study Abroad 101. They are held twice a week, at 11 a.m.Tuesdays and 2 p.m. Thursdays. No registration is required. Students can just walk in to IPS, Administration Building 200, and learn the basics about studying abroad.
Michigan Technological University is a public research university founded in 1885 in Houghton, Michigan, and is home to more than 7,000 students from 55 countries around the world. Consistently ranked among the best universities in the country for return on investment, Michigan's flagship technological university offers more than 120 undergraduate and graduate degree programs in science and technology, engineering, computing, forestry, business and economics, health professions, humanities, mathematics, social sciences, and the arts. The rural campus is situated just miles from Lake Superior in Michigan's Upper Peninsula, offering year-round opportunities for outdoor adventure.