Onder, Werner Receive Distinguished Teaching Awards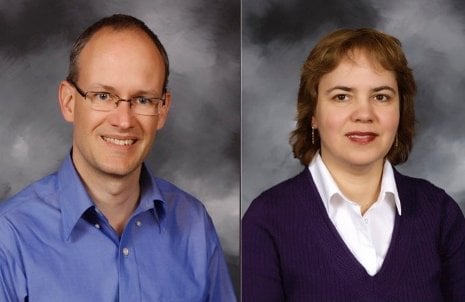 Success is all in the planning--just ask Michigan Technological University's 2013 Distinguished Teaching Award recipients.
For assistant professor of genetics and developmental biology Thomas Werner, who won the award in the assistant professor/professor of practice/lecturer category, each semester starts an entire year in advance. "People think I'm crazy to start planning my courses so early, but I like to check all of the material to ensure that it's accurate," he said. "I spend about twelve hours preparing for each fifty-minute lecture."
Nilufer Onder, associate professor of computer science, won the award in the professor/associate professor category. She also tries to plan her courses far in advance.
"I always look at the semester as a whole so I can avoid surprises and navigate the busy points more easily. It's a matter of looking for patterns and trying to evenly distribute the workload for students," she said.
Onder came to Michigan Tech in 1999, after receiving her PhD from the University of Pittsburgh in the same year. The former Middle East Technical University systems programmer teaches Formal Models of Computation and Artificial Intelligence courses, and advises the Women in Computer Science and Upsilon Pi Epsilon computing sciences honor society.
Students in her Formal Models class wrote, "Dr. Onder really cares about her students. She frequently asks for student input during class to make sure we truly understand what she is trying to teach us"; "She promotes online and offline learning and gives every student great opportunities to succeed. You can tell she truly puts her heart into the course and wants everyone to succeed"; "She is far and away the best teacher I've had in my five years at Tech. She consistently goes above and beyond."
What earns her such acclaim? "I always try to be accessible," she said. "Sometimes that means acting like I have all the time in the world even when I'm rushing." She also makes a great effort to challenge students without overwhelming them. "People need to get stuck in order to learn, so I try to avoid spoon-feeding students the answers. That being said, I always make it clear that I'm there to help them through any problems."
Onder's favorite part about teaching is working with so many dynamic and motivated students. "Our motto here at Michigan Tech is create the future, and I get to teach the people who are going to do that," she said. "Everything relies on computers, and it's my job to enable my students to produce the most reliable, secure, and quality software that they can."
"My students are a motivated and diverse group of people," Onder added. "They all want to contribute to society in one way or another. It's my job as a teacher to help them do that."
* * * *
Werner came to Michigan Tech in 2010, after serving as a postdoc in molecular biology University of Wisconsin Madison and completing his PhD at the Umeå Center for Molecular Pathogenesis. He teaches Genetics, Immunology, and Genetic Techniques.
His favorite thing about teaching is the energy that comes from working with the students. "I've found that in research you can give 100% and only get 10% out. With teaching, if you give your students 100%, they'll return the favor," he said.
It appears his efforts pay off. Students in his Genetics course wrote, "Despite the large class size, he creates a comfortable atmosphere where I am never nervous to ask a question"; "He can joke, but at the same time teach. He is a gifted instructor"; "He can make a student go from hating a subject--like genetics--to genuinely enjoying it"; "He is by far the best professor that I have had in my three years at Tech. He is funny, kind, and very passionate about the subject that he teaches, and he is always ready to help students learn."
Trying to make learning fun not only helps his students, but also motivates him to be an even better instructor. "Once I notice that students like what I'm doing and are engaged, I really get fired up and try to surprise them by being even better," he said.
"My teaching style is that I'm an entertainer," he added. "I'm there to teach them, but more importantly to hold their attention and to make them want to learn." Werner has a slightly unconventional--yet effective--way of measuring his success. "My goal is to have students laugh one time in each class, otherwise I've failed," he said.
To ensure that students are getting the most out his classes, Werner consistently seeks feedback from his students and tries to adjust his teaching to meet students' needs. "After the first week or two of the semester, I routinely pass out feedback forms to see what students are thinking. I sort and group all of the comments and send out an email to the class summarizing what's working and what isn't," he said. "When I do that, they know I'm paying attention to their expectations and can hopefully see that I'm trying to meet or exceed them."
Putting forth so much effort to be in tune with his students' needs stems from Werner's teaching philosophy. "People don't always remember what you say, but they never forget how you make them feel," he said. "My goal isn't to have students look back ten years from now and recite my lecture. I want them to think about my class and how it made them feel good about genetics."
A course covering such a complex topic can turn many students off, but Werner has a strategy for dealing with the often-confusing content. "I admit that the topics are complicated right up front. Then I try to break it down with the students and let them know that it's ok if they don't understand it all right away," he said.
He doesn't want his students to view genetics as strictly business. "It's important to let students have some fun because it helps them learn," he said. "They need to enjoy the material in order to really want to engage with it. I treat my classes with a sort of 'work hard, play hard' mentality," he added.
Michigan Technological University is a public research university founded in 1885 in Houghton, Michigan, and is home to more than 7,000 students from 55 countries around the world. Consistently ranked among the best universities in the country for return on investment, the University offers more than 125 undergraduate and graduate degree programs in science and technology, engineering, computing, forestry, business and economics, health professions, humanities, mathematics, social sciences, and the arts. The rural campus is situated just miles from Lake Superior in Michigan's Upper Peninsula, offering year-round opportunities for outdoor adventure.