Wisconsin-Madison, McGill Claim Snowmobile Crowns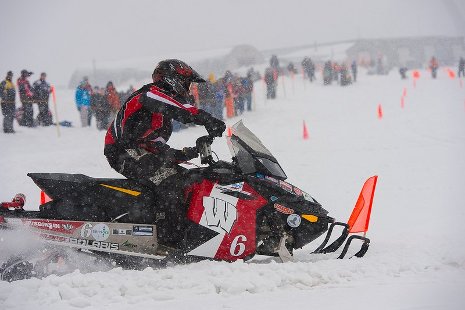 The University of Wisconsin-Madison took first place in the internal combustion (IC) category, and McGill University took top honors in the zero emissions (ZE) section of the 2013 Society of Automotive Engineers Clean Snowmobile Challenge, held at Michigan Technological University's Keweenaw Research Center (KRC) this week.
Fifteen universities from across North America sent teams to compete in the IC contest and five participated in ZE. In the Challenge, student teams work to reduce noise and emissions while maintaining performance and controlling costs.
Wisconsin-Madison captain Michael Solger said that, although they seemed "crunched for time," it all worked out in the end, winning the International Snowmobile Manufacturers Award for IC first place.
"We have to thank our advisors," said the third-year mechanical engineering student. "Really, if it wasn't for them, we wouldn't be here."
Solger said a pleasant surprise featured the two modes the sleds must run on now: economy and performance, in which they did well. Their four-stroke engine was fairly fuel efficient, too, he said.
"Our engine control unit was key," Solger said, "especially within the two modes."
UW-Madison also won the Blue Ribbon Coalition Award for most practical solution to a problem. It was the fifth time Madison took first place in the IC category.
Kettering University took second place in IC, for the second year in a row, with the University of Idaho coming in third.
Kettering also claimed the PCB Group Award for Quietest Snowmobile, Sensors, Inc. Award for best In-Service Emissions, and Mahle Powertrain Award for Engine Design. Idaho won SAE Best Design; the Schwegman, Lundberg, Woessner Award for Best Paper; Michigan Tech Alumni and Friends Award for Best Static Display; BASF Award for Innovation, Talon Research Combined Award (IC and ZE) for Safety and Aristo Intelligent Catalyst Technology Award for Most Improved Sled.
McGill's ZE win was their third for the Phoenix International—John Deere Company Award.
"We were second last year and really didn't change much on the sled," said captain Ali Najmabadi, a fifth-year electrical engineering major. "More power and less weight were our biggest challenges. We overcame that and the usual organizational challenges with any team!"
And their biggest concern, like every year, Najmabadi said, was safety.
"We have a lot of high-voltage running through the sled, and we want to keep our team members safe," he said. "We have to follow the rules." They also won CH2M HILL Best Range Award for farthest distance traveled on a single charge.
Alaska-Fairbanks took second in ZE, with Michigan Tech third. Fairbanks also claimed first in SAE Best Design and KRC Draw Bar Pull, where they towed 584 pounds. Michigan Tech won Polaris Industries Award for Best Handling (IC and ZE combined) and the Land and Sea Award for Best Performance.
State University of New York-Buffalo won in the AVL Best Emissions category with their diesel sled. The University of Wisconsin-Platteville took the Bill Paddleford Founders' Award for Most Sportsmanlike Conduct, with Kettering second.
It was the fourteenth annual competition and the eleventh straight that Michigan Tech has hosted. Organizers were pleased that this year's competition ran smoothly, including having plenty of snow and pleasant temperatures. Lack of snow has sometimes impacted Challenges past.
"We changed up some things, including the way we do inspections," said Challenge lead organizer Jay Meldrum, director of the KRC. "The teams seem to be embracing the changes and, as I tell them, 'Come to compete, not to complete.'"
Every year, the Challenge institutes rule changes that the teams must account for. Next year, organizers already have commitments from seven or eight schools in the ZE category, which will be a record number of entries, Meldrum said.
In addition to teaching the students about engineering, teamwork and more, innovations introduced at the Challenge have shown up on production sleds, such as the direct injection now used on Ski-Doo snowmobiles.
Michigan Technological University is a public research university founded in 1885 in Houghton, Michigan, and is home to more than 7,000 students from 55 countries around the world. Consistently ranked among the best universities in the country for return on investment, the University offers more than 125 undergraduate and graduate degree programs in science and technology, engineering, computing, forestry, business and economics, health professions, humanities, mathematics, social sciences, and the arts. The rural campus is situated just miles from Lake Superior in Michigan's Upper Peninsula, offering year-round opportunities for outdoor adventure.