From Mechanical Engineer to Crew Chief: Michigan Tech Alum Hits the NASCAR Circuit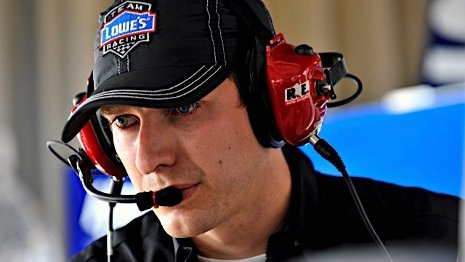 It's heady stuff for a self-professed car nut from a small town in Michigan's Upper Peninsula. Greg Ives, a 2003 mechanical engineering graduate from Michigan Technological University, was recently named crew chief for NASCAR driver Regan Smith. In NASCAR, the driver, owner and crew chief are the most important members of any race team.
It's a quantum leap from lead race engineer, his previous job with Jimmie Johnson's team, Ives says. Before that, he was a setup engineer for race driver Jeff Gordon, all with Hendrick Motorsports (HMS), a premier NASCAR racing team.
"Now, I have to worry about logistics, managing the employees, sponsors and then all the other stuff to make the cars fast," he says. "The crew chief has a lot of responsibilities. It's still new, but it has presented me with a lot of challenges and satisfaction."
Ives says his day starts early and involves setting goals, such as body builds, car setups, and tests, and he's using a valuable lesson learned from HMS Racing owner Rick Hendrick.
"It's all about the people, Rick taught me," he says. "Keeping the employees happy is the key." Hendrick and iconic driver Dale Earnhardt Jr. own JRM, Ives' new employer.
Ives' racing career began quite early, with a big-wheel race victory at age five in Escanaba, Mich. His family's involvement spurred him on.
"I grew up with my dad and brother racing," he says. "When I was young, I had to clean the inside of the car before it left for the track and clean the barn we had for a garage. As I grew older, I was smuggled into the track to help out. On my 16th birthday, my brother gave me an opportunity to drive."
He remembers the sacrifices, too.
"There were times in high school when I had to choose between friends, sports and my racing career," he says. "I always chose racing and would spend long nights getting the car ready or just working to pay for it. I didn't have a new or nice truck, didn't go to the movies or on dates, and rarely went to school activities that I wasn't a part of. I wouldn't change any of it."
He worked his way through Michigan Tech, working nights and weekends as a mechanic for UPS. "I had to work hard and a lot, to make sure the bills were paid, and I didn't want to have student loans," Ives says. It taught him the discipline to stick to a schedule and keep his grades up, in addition to making sure packages got delivered.
As he was finishing up at Tech, his résumé made its way to HMS through a distant relative. A couple of in-person interviews later, and he had to choose between NASCAR and a job in Grand Rapids. It was an easy choice.
Today, safety is also one of his primary concerns, as it is all across NASCAR, especially since the death of megastar driver Dale Earnhardt Sr. in 2001. He says the race teams and tracks do everything they can to make the sport safer. In fact, a carbon-fiber seat designed, built and tested at Hendrick Motor Sports is used by a majority of today's drivers.
"There is rigorous testing to make sure that the drivers are safe in the HMS seat," Ives says.
And, speaking of racing engineering, he sees a promising opportunity for his alma mater.
"I think it would be great to have more support for the Formula SAE and other Advanced Motorsports Enterprise programs, to develop engineers for NASCAR," he says. "There is a need to have quality engineers in the sport, especially those with the work ethic of people who attend Michigan Tech.
In fact, a Tech mechanical engineering student, Chais Eliason, is currently interning for HMS, perhaps on the fast track to a great career.
Michigan Technological University is a public research university founded in 1885 in Houghton, Michigan, and is home to more than 7,000 students from 55 countries around the world. Consistently ranked among the best universities in the country for return on investment, Michigan's flagship technological university offers more than 120 undergraduate and graduate degree programs in science and technology, engineering, computing, forestry, business and economics, health professions, humanities, mathematics, social sciences, and the arts. The rural campus is situated just miles from Lake Superior in Michigan's Upper Peninsula, offering year-round opportunities for outdoor adventure.