Students Converting Husky Motors Van into Mobile Med Clinic for Ghana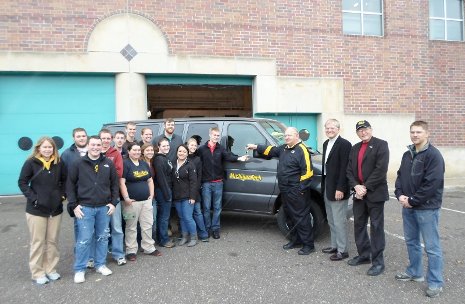 A team of Michigan Technological University students is developing a mobile medical clinic for the rural poor of Ghana. The students are converting a van that was donated by Husky Motors in order to build the clinic.
People have access to hospitals in Ghana's cities, but those living in rural areas do not have even the most rudimentary medical care. Traveling to the nearest hospital is so time-consuming and costly, that many people are unable to make the journey. Doctors occasionally travel to these remote villages, but are only able to bring minimal medical supplies.
Third-year mechanical and biomedical engineering student Erik Wachlin and his team want to change this. The mobile clinic is a combined effort between the International Business Ventures Enterprise (IBV), a mechanical engineering senior design team and students from the Pavlis Institute of Global Technological Leadership. ArcelorMittal donated the steel necessary for the conversion.
Their clinic will bring doctors to rural areas, along with microscopes, centrifuges, an autoclave, culture incubators and other equipment that will allow doctors to diagnose and treat diseases. "There are a lot of people in Ghana who are very sick or dying from diseases that are preventable and treatable. Our hope is that the mobile clinic will allow doctors to reach these people before it's too late," said Wachlin.
Third-year biomedical engineering student Brett Barker is researching the specific medical issues of the clinic. "With these diagnostic tools, we hope to give the physicians a greater ability to treat patients," said Barker. The autoclave will sterilize the instruments, and the doctors will be able to perform much safer minor operations.
This is the pilot year for a project that Wachlin and his team hope will grow. "Our goal is to expand and eventually reach all of Ghana," said Wachlin. The team hopes that the project will attract support, perhaps from corporations or foundations.
The mobile clinic will be based in the town of Sunyani in western Ghana. Some of the students will travel there this summer to deliver the mobile clinic. They will remain in Ghana for most of the summer, performing weekly check-ins with the doctors to get feedback on the clinic. "The field tests will help us to develop a mobile clinic that can increase the overall wellness of the Ghanian communities that need this support," said Barker.
The team is hoping to raise $4,000 to $6,000 to ship the clinic to Ghana. "We're coming from nothing and going to something very quickly, and that's no easy task. Anyone who would like to help with funding or provide us with some contacts would be more than appreciated," said Wachlin.
For more information, see Pavlis Institute.
Michigan Technological University is a public research university founded in 1885 in Houghton, Michigan, and is home to more than 7,000 students from 55 countries around the world. Consistently ranked among the best universities in the country for return on investment, the University offers more than 125 undergraduate and graduate degree programs in science and technology, engineering, computing, forestry, business and economics, health professions, humanities, mathematics, social sciences, and the arts. The rural campus is situated just miles from Lake Superior in Michigan's Upper Peninsula, offering year-round opportunities for outdoor adventure.