Bob Mark Elevator Pitch Competition:That's Entertainment (and Ingenuity)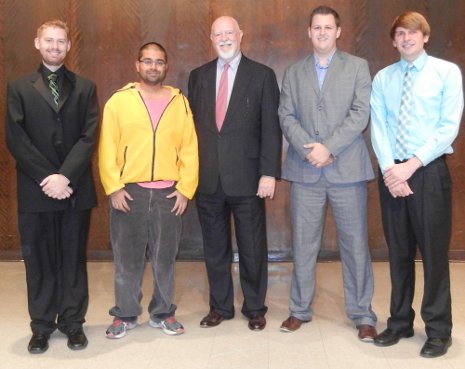 At the Fourth Annual Bob Mark Elevator Pitch Competition at Michigan Technological University, more than 20 teams made their best pitches promoting ideas for new businesses, and the judges had some hard choices to make. The contest emulates an elevator ride with a potential investor, and this year featured sound effects, dramatic lighting and entertainment.
Winning first prize and $1,000 was MyPaar (My Love), a dating website for India, created by physics PhD student Abhi Kantamneni.
"Would you want your mother to pick your dates for you?" he asked. "I didn't think so." He went on to explain his Indian-based matchmaking website that would be less expensive and more targeted than match.com or eharmony.com.
"I need startup funding to launch the site by Valentines Day," he said to laughter and applause. "And God bless America!"
Kantamneni said he got his inspiration for the idea at 2:30 a.m., while immersed in another competition. "I realized that my other idea wasn't good, and I needed to follow one important part of a business model: think of the customer first." He also won the Audience Favorite Award and $200.
Second place went to Upland Nanotech, an ingenious invention by Thomas Daunais, an electrical engineering major. He was promoting a system for accurately measuring the amount of medicines in someone's bloodstream, so emergency room doctors can more accurately treat the patient. He had input from physicians to help him with his idea, he said.
"Even people of the same weight can have different reactions to medications," Daunais said. "This can help a major ER problem." He took home $500 for his efforts, and a key to his success, he said, was creating a technology for a problem that already existed, "instead of vice versa."
A tie for third place featured, to no one's surprise, two completely different ideas. Aquaponics, by chemical engineering major Jacob Bray and economics major Josh Krugh, was a sustainable way to produce healthy food. "It's vertical farming, where fish waste is recycled to feed plants: fresh fruits and vegetables," Krugh said. "You are what you eat," they said in unison before biting into apples.
The other third-place winner was iCoach, a system for delivering game videos faster and cheaper to coaches. Nick Laurila, master's student in applied natural resource economics, was the creator, with some help from the Tech coaching staff. Nick works for the athletics department.
"We know this will be in demand for both college and pro sports," he said. "Other services are slow and expensive." He was seeking funding to further develop the product and produce a prototype.
iCoach and Aquaponics both received $250 instead of splitting the amount, thanks to additional support from the MTEC SmartZone, one of the sponsors of the competition. The School of Business and Economics was the other sponsor, with help from A Hitchhiker's Guide through Innovation, a student organization.
Other favorites included a smartphone app for identifying gluten-free products in the grocery store, a wood-fire-driven portable hot tub, a system for keeping track of children, and one machine to both wash and dry laundry
Officials from Central Michigan University were in attendance. Tech and CMU work together for the New Venture Competition, with some $60,000 in prizes, which takes place in March at CMU. The deadline to enter is Wednesday, Nov. 28.
Bob Mark was a professor in the School of Business and Economics who passed away in 2011. Mark started the Elevator Pitch Competition and championed student innovators and entrepreneurs throughout his career at Michigan Tech.
Michigan Technological University is a public research university founded in 1885 in Houghton, Michigan, and is home to more than 7,000 students from 55 countries around the world. Consistently ranked among the best universities in the country for return on investment, the University offers more than 125 undergraduate and graduate degree programs in science and technology, engineering, computing, forestry, business and economics, health professions, humanities, mathematics, social sciences, and the arts. The rural campus is situated just miles from Lake Superior in Michigan's Upper Peninsula, offering year-round opportunities for outdoor adventure.