Superior Ideas: A New Funding Tool for Michigan Tech Research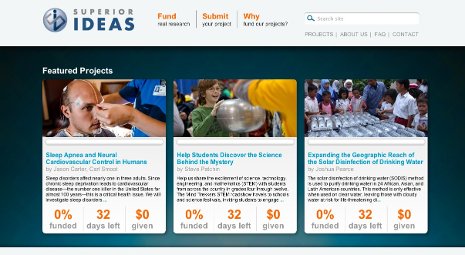 Anyone familiar with Michigan Technological University knows that it is a hotbed of superior ideas. A new initiative by the same name—Superior Ideas—was unveiled today at the University's Board of Trustees meeting.
Superior Ideas is a crowdfunding web site, where anyone can contribute any amount to help support research projects, David Reed, vice president for research, told the Board. Crowdfunding is a relatively new phenomenon enabling a large number of individuals to pool small contributions to support projects in which they share a common interest, he explained.
Using an existing crowdfunding site, John Vucetich, associate professor in the School of Forest Resources and Environmental Science, raised more than $10,000 this year to help support the ongoing wolf-moose predator-prey study at Isle Royale National Park.
"This is a way to leverage interesting ideas," said Reed. "It can help people get started, do a discrete piece of research or collect data that will enable them to get more funding."
Initially, Superior Ideas is featuring nine Michigan Tech research projects, including a sleep apnea study by Jason Carter, chair of kinesiology and integrative physiology and associate dean of the College of Sciences and Arts; Associate Professor of Chemical Engineering Adrienne Minerick's analysis of infant teardrop nutrition; and development of safer heart bypass grafts by Feng Zhao, assistant professor of materials science and engineering. More research projects will be added over time.
The Board previewed the Superior Ideas web site, now in beta test mode. The web site provides information about each research project, including why the research is important and what a donation can help the researcher do. The web site can be seen at www.superiorideas.org.
In other business, the Board:
Voted to award the Board of Trustees Silver Medal to Blair Orr, a professor in the School of Forest Resources and Environmental Science, for his efforts to create and grow Michigan Tech's Peace Corps Master's International program, now the largest in the nation.
Recognized three longtime employees for a total of 128 years of service to the University. Clark Givens, 47 years; Dennis Wiitanen, 42 years; and Mary Ann Beckwith, 39 years. The Board also named Wiitanen a professor emeritus of electrical and computer engineering.
Heard a report on Michigan Tech's Fall Career Fair that took place Oct. 2. The event attracted 280 companies and 888 recruiters. Nearly 4,190 interviews were scheduled. In his opening remarks, Board Chair Steve Hicks praised the fair's success.
Learned that Michigan Tech's Mind Trekkers—a K-12 science and engineering outreach program—is partnering with the USA Science & Engineering Festival to produce science road shows nationwide.
Approved a 5-year capital outlay plan to be submitted to the State of Michigan, including advanced energy research laboratories, a human health research center and a manufacturing center. The state requires a capital outlay plan to be submitted, whether they fund any projects or not.
Voted to grant honorary doctor of philosophy degrees to Arden L. Bement and David Barnes. Bement, director of the Global Policy Research Institute and former director of the National Science Foundation, will speak at Tech's mid-year Commencement in December. Barnes is program director of IBM's Strategy and Emerging Internet Technologies. He will be the May 2013 Commencement speaker.
Michigan Technological University is a public research university founded in 1885 in Houghton, Michigan, and is home to more than 7,000 students from 55 countries around the world. Consistently ranked among the best universities in the country for return on investment, Michigan's flagship technological university offers more than 120 undergraduate and graduate degree programs in science and technology, engineering, computing, forestry, business and economics, health professions, humanities, mathematics, social sciences, and the arts. The rural campus is situated just miles from Lake Superior in Michigan's Upper Peninsula, offering year-round opportunities for outdoor adventure.