Numbers of Women Engineering Undergraduates, Graduate Students Increase at Michigan Tech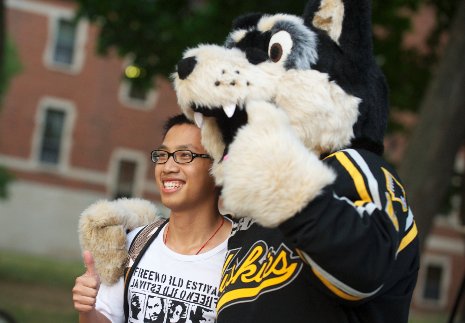 Michigan Tech submitted its official fall undergraduate and graduate enrollment figures to the state on Sept. 12, 2012.
The total number of students on campus this fall is 6,945, including 1,410 new undergraduates, both first-year and transfer students. Of those new undergraduates, 1,027 are Michigan residents, 349 are women, 93 are underrepresented minorities and 54 are international students.
"Four and half years ago we enrolled one of the largest undergraduate classes in recent memory," said Les Cook, vice president for student affairs. "Last May those students graduated, and 95 percent of them were successfully placed. With that exceptionally large number of graduates taking their place in the world and decreasing numbers of students graduating from high schools in Michigan, it is more challenging for us to fill all their spots at the University. But we're doing well, and I think that the high placement rates and starting salaries of our graduates bode well for the long run. The market is there. Right now, our Fall Career Fair already has the second largest number of companies attending in our history, and businesses are still registering."
Although the total number of women at Michigan Tech dropped slightly, the number of female students in the College of Engineering rose to 835 from last year's 795. That brings the percentage of women engineering undergraduates up to 20 percent. Since 2005, the number of undergraduate women enrolled in the College of Engineering has increased 36 percent, from 612 to 835.
Overall, women make up 25 percent or one in four of the undergraduates at Michigan Tech.
"We've done a lot in the background over the past couple years to begin to position Michigan Tech as a 'go-to' place for women interested in the STEM (science, technology, engineering and math) fields and management," said President Glenn Mroz. "It's a process that will continue. This fall we're gearing up a new marketing campaign to reach out to women interested in understanding, developing, applying, managing and communicating science and technology. After all, women make up about 55 percent of the college-bound population; their science and math abilities are exceptional, and employers are continually looking for more gender balance in their workforce."
The total number of graduate students at Michigan Tech rose to 1,322 this fall, a 1.5 percent increase over fall 2011. First-time master's degree students this year total 257 and first-time doctoral students, 98.
Michigan Tech also saw a fourth consecutive year of increases in graduate degrees granted, reported Jacque Smith, director of marketing and advancement for the Graduate School. In the 2011-12 academic year, 352 graduate degrees were granted, including 289 master's and 63 PhDs.
"These numbers are encouraging and are moving us closer to our goal of having 3,000 graduate students at Michigan Tech," said Graduate School Dean Jacqueline Huntoon.
Michigan Technological University is a public research university founded in 1885 in Houghton, Michigan, and is home to more than 7,000 students from 55 countries around the world. Consistently ranked among the best universities in the country for return on investment, the University offers more than 125 undergraduate and graduate degree programs in science and technology, engineering, computing, forestry, business and economics, health professions, humanities, mathematics, social sciences, and the arts. The rural campus is situated just miles from Lake Superior in Michigan's Upper Peninsula, offering year-round opportunities for outdoor adventure.