Michigan Tech Astrophysicists Share 2010 Research Award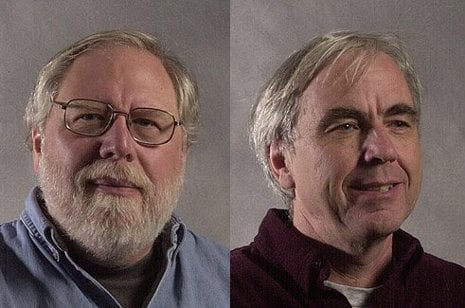 David Nitz and Brian Fick have been named co-recipients of the 2010 Michigan Tech Research Award. Both are professors of physics at Michigan Technological University and internationally recognized experts in the field of experimental particle astrophysics. Their scientific research focuses on discovering and understanding the source of cosmic rays, the highest-energy particles in the universe.
"Normally, this award recognizes outstanding individual achievement, but in this case it makes perfect sense for this to be a joint award," said David D. Reed, vice president for research.
Nitz and Fick brought the work of the international Pierre Auger Observatory research project to Michigan Tech, including more than $3 million in federal research funding. They have worked with the Auger project, an international collaboration involving 17 countries and more than 90 research institutions, since its inception in 1992.
Nitz has been one of the leaders of the project's first observatory in Malargue, Mendoza, Argentina, heading the development of a triggering framework for the ground array there and the implementation of the first level trigger—electronics designed to quickly determine if the signals picked up by the observatory's detectors are likely to be the extremely rare cosmic rays. He also serves as Northern Hemisphere scientific spokesperson for a second observatory planned in the US.
Fick worked from the beginning on the design of the Auger observatory, helping promote the idea that the facility should be a hybrid detector including both a surface detector and a fluorescence detector. He chaired the committee that developed the inter-detector triggering mechanism and now is co-coordinator of a "Search for Exotic Physics" analysis.
"We are honored to have been selected among the many great researchers at Michigan Tech," said Fick. "We could not have done any of our work without the continued support of our home institution."
Nitz added: "I second Brian's comments. The phenomenally supportive atmosphere for our research at Michigan Tech across all levels of the University has been an important asset. Our collaboration with engineering colleagues is something our Auger collaborators strive to emulate. They envy the enthusiastic support our administration provides us."
The astrophysicists' work has influenced research and education at Michigan Tech in many ways. "The technical innovations developed for the Auger Observatory by Drs. Nitz and Fick have had a broad impact within Michigan Tech," said Vice President Reed. They helped the University acquire an extensive package of valuable electronic design automation software. Using this software, they developed a custom integrated circuit for the Auger Observatory trigger, containing 250,000 transistors.
Their work fostered a close collaboration with the Department of Electrical and Computer Engineering. The physicists served on several ECE graduate student advisory committees and now are working with Roger Kieckhafer, associate professor of electrical and computer engineering, to develop a real-time wireless communications system for the northern Auger Observatory.
Nitz and Fick also were instrumental in recruiting Petra Huentemeyer, another particle astrophysicist and assistant professor of physics at Michigan Tech. They helped establish the Malargue Anniversary Scholarship, which enables students from Argentina to come to Michigan Tech. This initiative in turn laid the groundwork for the establishment of a Pavlis Institute for Global Technological Leadership site in Malargue, with the first team of students scheduled to start this summer.
Michigan Technological University is a public research university, home to more than 7,000 students from 54 countries. Founded in 1885, the University offers more than 120 undergraduate and graduate degree programs in science and technology, engineering, forestry, business and economics, health professions, humanities, mathematics, and social sciences. Our campus in Michigan's Upper Peninsula overlooks the Keweenaw Waterway and is just a few miles from Lake Superior.