Blue Marble and the Business of Engineering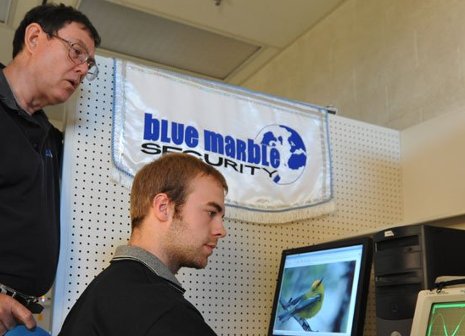 Glen Archer takes a hands-off approach when it comes to his students' hands-on education. And that's a good thing.
"The Blue Marble Security team is run as a business, and by that, I mean, they get to run all the day-to-day operations, make all the decisions, and the project managers just report to me with updates," says Archer, a lecturer in Michigan Tech's electrical and computer engineering department.
Blue Marble is one of numerous Enterprise teams thriving on campus in which students find industry sponsors, solve problems, and learn many important business practices in addition to some intense engineering.
"They truly own the entire project," Archer says.
In the case of Blue Marble, one important asset of their work involves simplifying, improving, and often redoing computer coding. A couple of code warriors took time off their summer studies recently to discuss some of their many projects, which run the gamut from improving a stroller for handicapped children to creating a better camera for studying wildlife.
Paul Hillert, a computer science major, likes the "agile development," he says. "We have to keep good documentation, since we have high student turnover. It's really tacit knowledge, and it's better to have a bunch of eyes looking at any one problem."
Hillert is one of a "cadre of specialists," Archer says. "Blue Marble [with some 60 members] is running 7 to 9 projects at once, and it's the student leadership that orchestrates the processes."
Casey Demars, an electrical engineering major, was involved with the aforementioned stroller for handicapped kids, dubbed Rock and Stroll. To encourage the children to walk more, the Tech students engineered music that would play when the youngsters moved forward. The prototype has been well received by the customers and their parents.
And Rock and Stroll is a great example of what Demars likes about Blue Marble.
"As a project manager, I'm involved in all aspects of a project like this," he says. "From brainstorming to ordering parts to putting it through the tests, to making sure it all worked."
The students also learned a hard lesson with Rock and Stroll: Michigan Tech's Internal Review Board wanted complete verification of safety before allowing the tiny human subjects to test for usability.
The challenge of creating a small battery with a long life for the stroller also proved daunting, but that hurdle, too, was cleared.
"I kept holding up the icon Hallmark as an example," Archer said. "If they can make greeting cards that play songs with a battery that lasts for years, then Blue Marble should be able to create a battery smaller than a breadbox that lasts longer than two hours!"
Hassle-free Bird Watching
The wildlife camera project, with four cameras now deployed for the faculty researcher, is another project with broad business practices and another battery problem.
Researchers wanted to have a camera with a long battery life, so they wouldn't have to go back out into the woods too often, possibly disturbing the ecosystem, in this case the nesting of the western warbler, which is on the endangered species list.
"And the deadline pressure was intense," Archer says. "They only have a small window of opportunity since they were trying to photograph the warbler during the nesting season, and they don't always know when that is going to happen."
In their on-campus lab, the students and Archer revealed a prototype of the camera and other equipment that is currently helping the researcher watch and record the birds' world without disrupting it.
It was another example of the business end of an engineering problem, Archer says.
"In this case, the project manager is really out in the trenches," he says. "He has to get the job done on deadline, when the researcher is out in the field. They actually wanted this project finished early this spring semester!"
Since these projects are student-run, there is always the possibility that someone drops the course that covers Blue Marble, and the remaining students can be left making up for lost information and productivity.
But, "at the same time, it leaves great opportunities for growth," Archer says.
And the students agree, both of whom believe their futures are brighter by the involvement with Blue Marble, including other projects like small, quiet remote operated vehicles, improved inventory systems, and even a better remote control for Tech's football coaches to review game videos.
"It's better to fail here than when I am out in my job," says Hilbert, who has a software engineering position pending at a small company in southeast Michigan. He wants to help them "redefine processes" and claims he won't miss Michigan Tech's famous snowfalls.
And Demars, who would also like to end up in the Midwest, is also sold on that business side of engineering. "Product development," he says. "I like being able to see all the steps, including creating a system and, after the product is made, seeing what works and what doesn't work."
A couple of enterprising students, it seems, have a solid business sense for engineering solutions.
Michigan Technological University is a public research university founded in 1885 in Houghton, Michigan, and is home to more than 7,000 students from 55 countries around the world. Consistently ranked among the best universities in the country for return on investment, Michigan's flagship technological university offers more than 120 undergraduate and graduate degree programs in science and technology, engineering, computing, forestry, business and economics, health professions, humanities, mathematics, social sciences, and the arts. The rural campus is situated just miles from Lake Superior in Michigan's Upper Peninsula, offering year-round opportunities for outdoor adventure.