Miguel Levy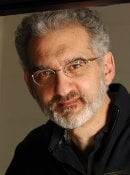 Professor, Physics and Materials Science and Engineering
PhD, Physics, City University of New York
Research Description
Professor Levy's research activities presently center on photonics, with an emphasis on nonreciprocal phenomena, magneto-photonics and nanophotonics.
Links of Interest
Research Interests
Photonics
Nonreciprocal Phenomena
Thin-Film Magneto-Optic Polarization Rotator, US Patent No. 5,408,565, issued 1995.
Crystal Ion Slicing of Single-Crystal Films, US Patent No. 6,120,597, issued 2000.
Slicing of Single-Crystal Films Using Ion Implantation, US Patent Nos. 6,503,321 and 6,540,827 B1, issued 2003.
Method for Fabricating Ultra-Thin Single-Crystal Metal Oxide Wave Retarder Plates and Waveguide Polarization Mode Converter Using the Same, US Patent No.6,641,662, issued 2003.
Waveguide Mach-Zehnder Optical Isolator Utilizing Transverse Magneto-Optical Phase Shift, US Patent No. 6,943,932, issued 2005.
Magneto-Photonic Crystal Isolators, US Patent No. 6,952,300, issued 2005.