Sajjad Bigham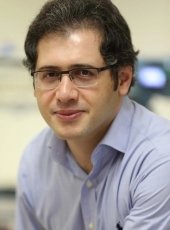 Adjunct Associate Professor, Mechanical Engineering-Engineering Mechanics
Associate Professor, Mechanical and Aerospace Engineering, North Carolina State University
PhD, Mechanical Engineering, University of Florida
Biography
Dr. Sajjad Bigham is an adjunct associate professor in the Department of Mechanical Engineering-Engineering Mechanics at Michigan Technological University. He is the director of the Energy-X Lab (Energy eXploration Laboratory).
Dr. Bigham is a heat transfer and energy systems specialist interested in scientific and engineering challenges that lay at the intersection of thermal-fluid, material and energy sciences. Our lab, Energy-X (www.energyX-lab.com), is focused on understanding the fundamental transport science of important energy carriers at micro, nano and molecular scales. We designs, fabricates and examines a wide range of meso-, micro- and nano-devices/systems to understand their underlying physics and explore new technologies and performance breakthroughs.
Energy-X mission: Energy-X is a research group that specializes in energy science and technology. The increasing global demand for energy has stimulated intense research on energy conversion and storage systems. The mission of our lab is to improve energy efficiency, reliability, and economy of the process, component or system X; with X being our target technological area which spans from the energy sector to defense and environmental applications.
Links of Interest
Areas of Expertise
Heat Transfer and Thermal Management
Multiphase Flows and Phase-change Phenomena
Energy Systems
Micro- and Nano-fabrication Techniques
Research Interests
Microscale Heat Transfer
Microscale Physics of Boiling and Condensation Heat Transfer
Interfacial Transport Phenomena at Extreme Temperatures and Pressures
Multiphase Systems under Harsh Operating Conditions
HVAC&R Systems
Desalination Systems
Micro- and Nano-engineered Materials
Energy Conversion and Storage Devices