Dance. Feast. Learn how to play hockey. Get tips on dressing for Houghton's cold weather, or what to pack for study abroad. Join us for Thanksgiving dinner, and connect worldwide for International Education Week.
International Programs and Services offers tons of ways for students to get together, have fun, and share experiences. Tube or snowboard at Michigan Tech's Mont Ripley Ski Hill. Take off on a travel adventure. Share the flavors of your country at an international night—or try cuisine you have never tasted before.
Be part of something greater: International Education Week.
Help us celebrate student education and exchange programs with the US Department of State, US Department of Education, and students like you around the world during International Education Week in November. We share our stories on social media, and bring films and presentations to campus to entertain and enlighten your Michigan Tech community.
You are invited to our international dance party social during fall orientation week, and our traditional US Thanksgiving dinner.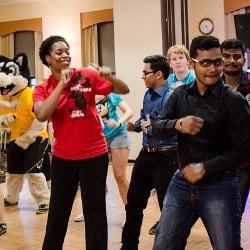 Global Social
Join us in the Memorial Union Ballroom for music from around the world. Learn classic line dances, meet other new students, and enjoy light snacks and beverages to energize you for dancing the night away!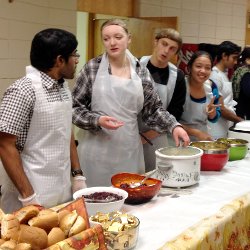 Thanksgiving Dinner
Turkey and gravy, stuffing, mashed potatoes, vegetables, rolls, and pumpkin pie for dessert, cooked and served by Rick Buis of Canterbury House, IPS staff, and other community volunteers grateful to meet you and share a tasty American tradition. No cost. Join us at St. Albert the Great University Parish on Wednesday one week before the Thanksgiving holiday (we'll email, and also share event details on Facebook).