Michelle Jarvie-Eggart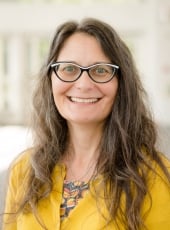 Contact
906-487-1105
Cell: 906-281-1872 (texting is good!)
Dillman 104E
Assistant Professor, Engineering Fundamentals
Affiliated Assistant Professor, Civil, Environmental, and Geospatial Engineering
Affiliated Assistant Professor, Cognitive and Learning Sciences
PhD, Environmental Engineering, Michigan Technological University
MS, Environmental Policy, Michigan Technological University
BS, Environmental Engineering, Michigan Technological University
Biography
Dr. Jarvie-Eggart approaches teaching and research from a liberation pedagogy. She believes in the empowering value of education in both students and faculty and is committed to creating an inclusive campus environment for everyone. Her research interests lie in the area of technology adoption among both engineering students and faculty, including the adoption of programming languages and online learning; as well as humanitarian service learning. She coaches kids' mountain biking in the summer and enjoys cross country skiing with her family in the winter. She is an avid knitter.
Links of Interest, Publications
Research Interests
Technology Adoption
Online Learning
Service Learning
First-year Engineering
Sustainability
"Research Initiation: Factors Motivating Engineering Faculty to Adopt and Teach New Engineering Technologies" National Science Foundation #2024970 , Michelle Jarvie-Eggart-PI, Shari Stockero-Co-PI, $199,633, 08/31/20 – 08/31/23
"Supporting Learning and Enhancement of Programming Competencies Through Use of Immediate Critiques of Antipatterns in Novice Programmer Code" National Science Foundation #2142309, Leo Ureel-PI, Jon Sticklen-Co-PI, Laura Brown-Co-PI, Michelle Jarvie-Eggart-Co-PI, $599,732, 5/1/22-4/30/25
"Investigation of Effects of Online Faculty Training at Michigan Technological University", Michigan Tech and Grand Rapids Community College, Co-investigators: Michelle Jarvie-Eggart, Thomas Freeman, Luis Fernandez-Arcay. This Program pays undergraduate researchers from community colleges a stipend to work with researchers on Michigan Tech's campus for the summer (MiCUP Scholars Program).