Speakers
Jennifer Julien
To say that Jennifer (Fuller) Julien has made a significant impact in a relatively short period of time is a true understatement. Educated as an engineer, she has transitioned into a successful entrepreneur, investing more than $25 million into the Houghton community and creating more than 100 local jobs. At the age of 30, Julien is co-owner, with her husband Jon, of more than a half dozen companies, two of which she recently built to introduce world-class service to the local hospitality industry.
A native of downstate Hemlock, Michigan, she earned a bachelor's in civil engineering and a master's in environmental engineering from Michigan Tech. As a student, Julien was successful inside and outside the classroom. She was active with both the Undergraduate Student Government and Graduate Student Government, served as an orientation team leader, completed an International Senior Design Project in Panama, and served on the Homecoming Court.
She was awarded a National Science Foundation Graduate Research Fellowship and turned down offers to continue her education elsewhere, opting to pursue her graduate degree in environmental engineering at Tech.
When she wasn't studying, Julien traveled the country as a professional snowmobile racer for Polaris. She competed in two world championships and helped pave the way for women to be recognized as competing athletes in action sports.
After graduating, she found success with consulting engineering firms, but decided her efforts were best put into the businesses she and her husband were building from the ground up. While her efforts are now fully focused on building the businesses, Julien also believes in giving back to her community and is currently serving as the Youth Advisory Council (YAC) advisor on the Keweenaw Community Foundation Board, delivering grants to local youth programs.
Julien says her most cherished achievement is being the mother to her little girls, two-and-a-half-year-old Esrey and one-year-old Malone.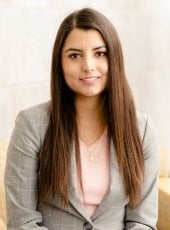 Student Speaker—Victoria Quinde Serrano
It was the sport of tennis that brought today's student speaker, Victoria Quinde Serrano, to Michigan Tech. However, her Husky experience has been so much more than serves, aces, volleys, and drop shots. Quinde, a native of Cuenca, Ecuador, wanted to travel abroad for college, but initially, Michigan Tech was not on her radar.
"I went to a German school in Ecuador, so my plan was to attend college in Germany. But Michigan Tech found me." An outstanding tennis player, Quinde was contacted by the coaching staff of Michigan Tech's women's tennis team. "The coaches were very nice and very encouraging, they told me, 'You're what we're looking for.'"
While the northern climate took some getting used to, sharing the experience with teammates from Brazil, Macedonia, Croatia, South Africa, and Kyrgyzstan made it enjoyable. "It really helped having so many international students on my team."
Quinde says although athletics was demanding—daily practices, 5 a.m. conditioning sessions, and long hours riding in vans to matches—she found her time on the team rewarding, crediting the coaching staff with making sure the team was well rounded. "I was told, 'You're here for tennis, but don't let tennis define you.'" And she certainly hasn't. She has experienced success on the court, serving as team captain for three seasons and earning All-Conference and GLIAC All-Academic honors, but being a tennis player is just a part of her story. She spent the fall season as an assistant coach on the women's tennis team, has served as a German and Spanish consultant in the Humanities Digital Media Zone (HDMZ), competed in the Pavlis Honors College Idea Pitch Competition, and participated in the International Senior Design Program in Panama. Last summer, Quinde traveled to Darien, Panama, with classmates and Michigan Tech staff. She and her team are designing a water system for a small community that receives little to no water at all. The project will be sent to Global Brigades, an international, non-governmental organization at the end of this semester.
Quinde started as an economics major, but being surrounded by engineers had an impact. "I'm graduating with a degree in mechanical engineering, with minors in economics and aerospace engineering." Soon she'll be leaving the Copper Country to begin her career at TGW, a logistics company in Grand Rapids.