Speakers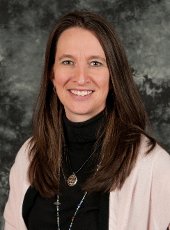 Paula L. Wittbrodt '93
Vice President, International Business Development and Chief of Staff to the Group President, International Business Operations at the Estée Lauder Companies Inc.
Paula graduated from Michigan Tech in 1993 with a BS in Chemical Engineering. In 1999, she earned her MBA from Columbia Business School in New York with a focus on strategic management.
Paula grew up in Auburn, Michigan, and decided to join Michigan Tech after spending a summer at the Women in Engineering Youth Program. As a student, Paula was actively involved in the Michigan Tech Student Foundation, Senior Class Council, American Institute of Chemical Engineers, Delta Phi Epsilon sorority, and intermural sports.
After graduating from Michigan Tech, Paula worked as a process development engineer for Amway Corporation in Ada, Michigan but eventually decided to shift her career focus to general management and left to attend Columbia Business School. Upon graduating, Paula went into consulting at A.T. Kearney supporting Fortune 500 clients with various strategic initiatives.
In 2005, Paula joined Avon Products, Inc. and held multiple positions over a seven-year span. She initially joined the Global Business Transformation team, led Global Skincare Development, and then moved to Shanghai, China to lead New Product Development for the Asia region. After returning to New York, Paula led Global Indirect Sourcing, and Sales & Operations Planning process transformation.
In 2012, Paula moved to the Estee Lauder Companies, Inc. as Vice President of Global Packaging Procurement, and in 2015, she was selected to lead International Business Development. In her current role, Paula focuses on implementing strategies for emerging markets, international due diligence for mergers and acquisitions, and leading corporate programs. She also serves as Chief of Staff to the Group President, International.
Over her career, Paula has been involved in charitable activities, including Junior Achievement, disaster relief activities, and breast cancer awareness. She also enjoys mentoring junior staff and supporting diversity programs aimed at recruiting and retaining women in business.
In recognition of her significant achievements, Paula was inducted into Michigan Tech's Presidential Council of Alumnae in 2011, and continues to be an active alumna on campus. She currently lives and works in New York City.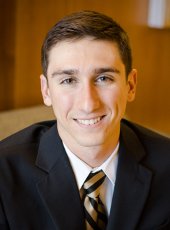 Student Speaker—David Rushlow
"Don't lose that drive. Find new motivation. Keep pushing. Continue to better yourself and the world around you."
Words of advice from today's student speaker, David Rushlow, to his fellow grads and current Huskies.
David graduates today with a BS in Mechanical Engineering and a minor in Aerospace Engineering.
The Boyne City, Michigan, native will be moving to Fort Worth, Texas, to work for Lockheed Martin Aeronautics designing the routing and mounting of wire harnesses for the next generation of F-16 fighter jets.
He's had an incredibly diverse set of experiences at Michigan Tech.
"I've been a long-term leader of the trombone section of the Huskies Pep Band," he says. "I've been very active as a career ambassador, assisting my peers in developing professional skills to help them land their dream job."
In his "spare" time, David participates in Civil War reenactments as an artillery captain in the Victorian Guard with fellow Michigan Tech students. He's also been a member of Tech's Full Throttle Motorcycle Club, Archery Club, and the Michigan Tech chapter of Ducks Unlimited.
As he heads to Texas, he'll take many great memories of his time here.
"Exploring and hunting the Keweenaw—sunrises spent in muddy water with a shotgun in my hand and the sunsets walking back to my truck—stars in the sky camping next to a huge waterfall. Those beautiful memories will stick with me forever."
David credits many people for helping him be successful at Michigan Tech.
"There are too many people who have impacted me here to list, but first and foremost I have to thank my parents for raising me to work hard and never quit," he says. "To my closest friends and lovely girlfriend, Danielle, thanks for hanging tight together through the rough exams. Celebrating the good ones is what motivated me to keep pushing."
David also wants to recognize professors Jim DeClerck and Carl Vilmann, the friendly staff at Career Services—particularly Julie Way—who convinced him a "kid from a small town can go out in the big world and nail their dream job right out of college."