Speakers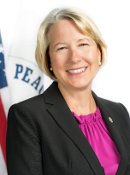 Carrie Hessler-Radelet
Director, Peace Corps
Carrie Hessler-Radelet is the 19th director of the Peace Corps, a position she has held since June 2014.
Prior to that, she served as the agency's acting director and deputy director from 2010–14. A member of a four-generation Peace Corps family, Hessler-Radelet began her career in international development as a Peace Corps volunteer in Western Samoa (1981–83), teaching secondary school with her husband, Steve Radelet. She went on to spend more than two decades working in public health, focusing on HIV/AIDS and maternal and child health.
During her time at the Peace Corps, Hessler-Radelet has led historic reforms to modernize and strengthen the agency to meet the challenges and opportunities of the 21st century. She spearheaded sweeping efforts to revitalize the volunteer recruitment, application, and selection process, resulting in record-breaking application numbers in 2015. She has also been instrumental in forging innovative strategic partnerships, such as Let Girls Learn, a powerful whole-of-government collaboration with First Lady Michelle Obama to expand access to education for adolescent girls around the world, and the Global Health Service Partnership, which sends physicians and nurses to teach in developing countries.
During her tenure, she has championed the health and safety of Volunteers, leading initiatives to dramatically improve Volunteer support and risk reduction, and overseeing the implementation of the 2011 Kate Puzey Peace Corps Volunteer Protection Act.
Previously, she served as vice president and director of the Washington, D.C., office of John Snow Inc., a global public-health organization, overseeing health programs in more than 85 countries. She was also actively involved in establishing the President's Emergency Plan for AIDS Relief (PEPFAR) and served as a primary author of PEPFAR's first strategic plan.
Hessler-Radelet holds a master of science in health policy and management from the Harvard School of Public Health and a bachelor of arts in political science from Boston University. She and her husband have two children.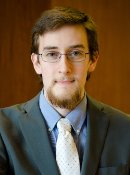 Student Speaker—John Andrew (Drew) Markel
BS degrees in Biomedical Engineering and Mechanical Engineering
"If you're the smartest person in the room, find a better room," is one of Drew Markel's favorite quotes.
After five years on campus and achieving a tremendous amount of success, Markel has stayed humble, making the most of his time at Michigan Tech, or "Nerdvana", as he warmly refers to it.
He is graduating with BS degrees in Biomedical Engineering and Mechanical Engineering. This summer, he will start working in Family Care products at Kimberly Clark in Neenah, Wisconsin, supporting the machines that create Kleenex. He will also marry his fiancé, Jessica Montgomery, who will be working at Kimberly Clark as well.
While on campus, Markel has balanced his studies with participation in a myriad of activities and organizations including serving as an Orientation Team Leader (OTL), working in Residence Life as both an RA and PA, playing percussion in the Pep Band for all five years, including serving as vice president for two years, being in Mu Beta Psi: the National Honorary Musical Fraternity, and Tau Beta Pi: the Engineering Honor Society, and working as a telecounselor, and in the Opie Library.
Markel credits a number of people at Tech as being instrumental to his success including his fiancé, parents, Professor Jaclyn Johnson in the mechanical engineering-engineering department, as well the good friends he did homework with late into the night. He also credits his grandfather for inspiring his drive to learn something new, whenever and wherever possible.
Even with great opportunities on the horizon, Markel admits there are things he will miss.
"I think the people. When I first came to Tech, I didn't think I would enjoy it as much as I did," he says. "It's winter all the time, and it's in the middle of nowhere. But it creates a really nice bond between people that I've come to thoroughly appreciate."
When asked about what helps him be successful, Markel said if you're not the smartest or the best at what you're doing, be willing to work hard.
"I've thrown myself at whatever challenges I've faced. I'm just your average kid, probably about the geekiest person you'll meet, and I'm okay with it."