Speakers
Townsend H. Porter Jr.
BS Electrical Engineering 1968
Tom received a degree in electrical engineering from Michigan Tech in 1968 and joined IBM in Rochester, Minnesota that same year as a logic and analog circuit designer.
While working as an engineer at IBM, he was responsible for approximately 20 inventions including the 3.5-inch floppy disk and IBM's first digital modem.
In 1978, IBM offered him an engineering management position in magnetic storage components, where he eventually became the director of disk drive development with responsibility for IBM's two hard drive development.
After 27 years Tom left IBM to found the High Performance Storage Group for Western Digital Corporation, where he was vice president of engineering. Tom grew the organization to 400 employees and a billion dollars in revenue over the ensuing 3 years.
In 1997 Tom joined Seagate Technology, as the chief technological officer and executive vice president of product development. During his tenure at Seagate, he merged the company's six worldwide product design centers into three, established a 200-person Seagate Research Center dedicated to the development of advanced storage technologies, and established a product and manufacturing platform strategy that dramatically reduced product and engineering costs.
After retiring from Seagate in 2004, Tom bought a 20-acre vineyard in Napa Valley where he designed and built a 17,000 sq. ft. state-of-the-art winery—underground. Today the winery produces 3,000 cases of premium Napa Valley wines each year.
Tom was inducted into the Michigan Tech Electrical and Computer Engineering Academy in 2007.
Three years ago, Tom formed a consulting company, Synergy Synthesis LLC, to provide consulting services to the Mayo Clinic in Rochester, Minnesota. He is currently consulting in technology portfolio management, advanced product development, and organizational and business development.
Porter and his wife have a family foundation that has helped build a children's home in Tanzania, supports an LBGT teen group in Sarasota, Fla., and aids troubled kids in Boston. In addition, the foundation has been a benefactor to the Mayo Clinic and Michigan Tech.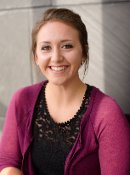 Student Speaker—Ellie Furmanski
BS Biomedical Engineering and Mechanical Engineering 2015
An Eden Prairie, Minnesota, native, Ellie Furmanski graduates today having double-majored in biomedical and mechanical engineering, also earning a minor in international Spanish. She will be joining Boston Scientific—where she was an intern last summer—as a supplier quality engineer starting in February.
"First and foremost I have to credit my parents," Ellie says when asked how she got to where she is today. "They raised me to be a strong, independent, and motivated individual, and for that I am forever grateful."
She credits Jeffrey Allen, Jaclyn Johnson, and Radheshyam Tewari in mechanical engineering and Rupak Rajachar in biomedical engineering for their knowledge and guidance through coursework and senior design. "I'd like to thank my professors and classmates for challenging me and teaching me more about the world than what can be discovered in a textbook," she says while reflecting on the classroom experience.
Many of her memories come from beyond the classroom, though: she cites Winter Carnival, broomball, hockey games, bonfires at Breakers, and the Northern Lights as things she'll always carry with her, along with her study abroad experience in Spain and plenty of late nights playing cribbage and euchre with friends.
She addresses her fellow graduates as our student speaker today, but she has advice for future students as well. "Don't be afraid," she says. "Don't be afraid to take a class, to raise your hand, to join a student org, to get involved in research, to try something new—to be yourself. You will be successful and learn so much more about yourself and the world around you when fear is not a barrier."