Speakers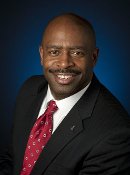 Leland D. Melvin
Leland D. Melvin, former NASA astronaut and associate administrator for education, was responsible for the development and implementation of the agency's education programs, strengthening involvement and awareness of the agency's scientific goals and missions. He inspired interest in STEM through NASA's unique mission, workforce, facilities, research, and innovations.
Melvin began his NASA career in 1989 as an aerospace research engineer at the agency's Langley Research Center in Hampton, Virginia. He entered NASA's astronaut corps in 1998 and served as a mission specialist, operating the robotic arm on two space shuttle missions to the International Space Station: STS-122 in 2008 and STS-129 in 2009.
He serves on the White House National Science and Technology Council's Committee on Science, Technology, Engineering, and Mathematics Education, or CoSTEM. CoSTEM coordinates STEM education and programs for all federal agencies, encourages the teaching of innovation and entrepreneurship, and develops and implements a five-year STEM education strategy for all federal agencies. He was the US representative on the International Space Education Board, a collaboration in space education between NASA, the Canadian Space Agency, the European Space Agency, the Japan Aerospace Exploration Agency, and the Centre National d'Études Spatiales.
Melvin earned a Bachelor of Science degree in Chemistry from the University of Richmond, where he excelled as a wide receiver. He was an NCAA Division I Academic All American and was inducted into the University of Richmond Athletic Hall of Fame. He was drafted by the Detroit Lions in 1986, also spending time with the Dallas Cowboys and Toronto Argonauts. After injuries sidelined his football career, he returned to academia and earned his Master of Science degree in Materials Science Engineering from the University of Virginia in Charlottesville. He holds honorary doctorates from Centre College, St Paul's College, and Campbellsville University.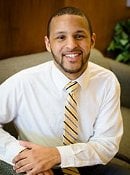 Student Speaker—Collin Doerr-Newton
Hailing from Lansing, Collin Doerr-Newton plans on making plenty of noise. But this sound design major, in the midst of following his dreams, has consistently supported his peers and served others, helping their voices be heard, too.
As the 2013 recipient of the Percy Julian Award, Collin was recognized for promoting diversity and cultural understanding. This honor was earned through not only his work as a student supervisor in the Center for Diversity and Inclusion, but also by serving as an academic success coach, teaching assistant, and peer mentor for the Wahtera Center for Student Success.
In addition, Collin's involvement with WMTU and the Society of African American Men, as well as work as a resident assistant for Housing and Residential Life, demonstrate a focus beyond his own dreams and a desire to help others achieve success.
On a path to graduate school and working in the recording industry, Collin has already completed internships with Harvest Creative Services in Lansing and DigiTrax Entertainment in Knoxville, Tennessee.
What will Collin remember most from his time at Tech? "Having an opportunity to meet and work with so many great people," he says. With plenty more opportunities ahead, Collin's is a voice that will be heard.