Speakers
Scott Usitalo
Honorary Doctorate in Philosophy
As president of Kimberly-Clark's North American Family Care division, Scott Usitalo oversees many of the world's preeminent brands, including Scott, Viva, and Kleenex. Since joining Kimberly-Clark in 2008, he led the global resurgence of several of the Fortune 150 company paper products, not only through sound marketing, financial, and production management, but also through a deep commitment to the world's consumers. "Bringing essentials to their daily lives is front and center of what I love to do," he says.
It's an approach he learned at a young age. When he was about twelve years old, Usitalo began working at the family gas station in South Range, where customer service was paramount. Three years later, he convinced his parents to open an auto body shop. The money he made fixing cars enabled him to fulfill his dream of attending Michigan Technological University. There, Usitalo earned a bachelor's degree in engineering, nurtured his love of the arts, and served as president of Blue Key.
After graduating in 1981, Usitalo joined Procter & Gamble as an engineer in its Cheboygan paper plant and quickly rose through the ranks. Within ten years, he was assuming responsibilities in marketing as well as production and in 1997 helped earn the company an "Effie" advertising award. By 2004, he had spearheaded a successful global drive to improve the efficiency and effectiveness of Procter & Gamble's worldwide marketing efforts.
Usitalo was then recruited to help transform the greater Cincinnati area into a center for tourism, and in 2005 he became the founding president of the Cincinnati USA Regional Tourism Network. By mobilizing government, business, and media, he implemented a strategy that resulted in healthy growth for the region's hospitality industry.
Usitalo was introduced to Kimberly-Clark while working as a strategist with global innovation firm Seed Strategy. Within a year, he became a permanent part of the Kimberly-Clark team in a global marketing capacity. While Usitalo derives great satisfaction from his multi-national company work, he has not lost his enthusiasm for hands-on projects. In his spare time, he restores classic muscle and sports cars. He has eight in his collection.
Usitalo attributes his success in part to skills honed during his years at Michigan Tech: logical thinking arising from the study of engineering and leadership qualities learned in organizations like Blue Key. Underlying it all were the experiences of his youth, when he learned to treat everyone who walked through the door with respect. "My approaches to business and people were clearly born in that body shop," he said.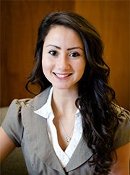 Student Speaker—Felicia Nip
Originally hailing from Woodhaven, Michigan, Felicia Nip is wrapping up a distinctive undergraduate career today with her BS in Biochemistry and Molecular Biology.
Her path to Michigan Tech began with Women in Engineering, a part of Tech's Summer Youth Programs. Between that experience and being invited to the Leading Scholars Competition, Tech was soon at the top of her college list.
"My parents disliked the idea of going 600 miles away to a tiny engineering school," she says. "They just didn't know the magic of being a Husky—the adventure, the innovation, the ability to find something you love, do it, and be recognized as an individual."
Then she got to Tech, she found that opportunities abounded not only in her studies, but also to get that extra edge. Between volunteering at Portage Health—where she had the chance to shadow a physician once a week—and being a first responder for the Michigan Tech EMS team, she's one step ahead on her way to medical school.
While focusing on microscopic details in her studies, Felicia has lived the Tech experience to the fullest. She is on the executive board of the Honors Institute and is a member of the Pre-Health Association and Phi Sigma, the Biological Sciences Honor Society. She worked in the Applied Chemical and Morphological Analysis Laboratory, received a SURF award (summer undergraduate research fellowship), and was named the 2013 Winter Carnival Queen.