Speaker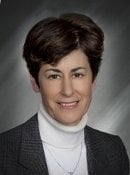 Martha N. Sullivan
Martha N. Sullivan, who earned a bachelor's degree in mechanical engineering in 1985, has steadily ascended the corporate ladder.
She was named president of Sensata Technologies in 2010, in addition to her role as chief operating officer and director of several of Sensata's operating subsidiaries. Previously she was executive vice president and chief operating officer, a position she had held since Sensata was purchased by Bain Capital from Texas Instruments in 2006.
Martha joined Texas Instruments in 1984 and held various management positions, including vice president of Sensor Products from 1997 to 2006. During her tenure, Sensor experienced ten consecutive years of growth.
Sensata Technologies is one of the world's leading suppliers of sensing, electrical protection, control, and power management solutions. The company, with revenues of $1.8 billion, has manufacturing and technology development centers in eleven countries and employs 11,500 people.
Martha has been involved at Kettering University and Rensselaer Polytechnic Institute, and she is a member of the Society of Automotive Engineers and the Society of Women Engineers.
She has also been a speaker and panelist for a range of industrial and academic gatherings, including the Ernst and Young China Business Roundtable and the Morgan Stanley Executive Women's Conference. She was the keynote speaker in 2004 at RPI's "Design Your Future Day." In 2011, she took part in a panel on entrepreneurship at Michigan Tech. She is a volunteer for Odyssey of the Mind, a national academic program for youth from kindergarten to college.
Since her graduation from Michigan Tech, Martha has maintained a close relationship with the University. She is a member of the Presidential Council of Alumnae, has been inducted into the Academy of Mechanical Engineering and Engineering Mechanics, and serves on Michigan Tech's Generations of Discovery Campaign, which strives to raise $200 million to enable Michigan Tech to realize its goal of being an institution of world-class stature. Martha's extensive work in Europe and Asia helps inform that vision.
She and her spouse, Michael, have two children and live in Westport Point, Massachusetts.