Speaker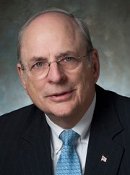 Mr. Norman R. Augustine
Former Chairman, Lockheed Martin, and Former Undersecretary of the Army
Norman Augustine has been a leader of industry, a devoted servant of government and society, and a visionary.
His reputation and stature as a businessman and engineer led to his being named chair of a committee, formed by The National Academies, which in 2005 presented to Congress a report titled, "Rising Above the Gathering Storm: Energizing and Employing America for a Brighter Economic Future." The document analyzed America's strengths and weaknesses in science, technology, engineering and math—the STEM fields—and outlined what the US needs to do "to compete in this rough and tumble global environment."
Mr. Augustine started his industrial career in 1958 at Douglas Aircraft Company. He became CEO and chairman of both Martin Marietta Corp. and Lockheed Martin Corp. He retired in 1997. He began his government service in 1965 in the office of the Secretary of Defense. In 1973, he became assistant secretary of the Army; in 1975, he became undersecretary of the Army; and he later became acting secretary of the Army.
Mr. Augustine has headed the National Academy of Engineering, the Association of the United States Army, the Aerospace Industries Association, the Defense Science Board, the American Red Cross, and the Boy Scouts of America.
Other government service includes membership on the advisory board of the Department of Homeland Security and on the President's Council of Advisors on Science and Technology.
He also is a member of the American Philosophical Society, the National Academy of Sciences, and the Council on Foreign Affairs. He is a Fellow of the National Academy of Arts and Sciences and the Explorers Club.
His work has taken him to more than 100 countries, and he has stood on both the North and South Poles of the Earth. His achievements and recognitions have been equally extensive.
He has received the National Medal of Technology from the President of the United States and the Distinguished Public Service Award from the Joint Chiefs of Staff. He has received the Department of Defense's highest civilian decoration, the Distinguished Service Medal, five times. He is author or coauthor of four books about military policy; the pitfalls that confront business managers; ethical standards in business; and how Shakespeare informs sound, successful leadership.
He has been singled out by "Who's Who in America"—and by the Library of Congress as one of "Fifty Great Americans" on the occasion of the fiftieth anniversary of "Who's Who."
A native of Colorado, he earned bachelor's and master's degrees, magna cum laude, in aeronautical engineering from Princeton University, where he taught for two years after retiring.