Speaker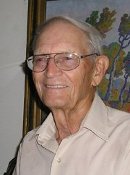 Dr. Raymond L. Smith
Melvin Calvin Medal of Distinction
Ray Smith, a native of Maine who now lives in Arizona, was the sixth president of Michigan Tech, serving from 1965 to 1979.
Under his leadership, the institution grew in size and stature. A man of ambition and vision, Smith's abiding guide was, "We must not be afraid to move ahead."
Smith earned a bachelor's degree in mining engineering from the University of Alaska, Fairbanks in 1943. He served in the US Army from 1943 to 1946, then taught at the University of Alaska from 1946 to 1949. He returned to school and earned both a master's and doctorate in metallurgical and materials engineering from the University of Pennsylvania in 1951 and 1953, respectively.
For the next six years, he worked at the Franklin Institute Research Laboratories. In 1959, he came to Michigan Tech as professor and department chair of metallurgy, and, later, coordinator of research. Six years later, he was president. During his tenure, ten major buildings were constructed. (The Mechanical Engineering-Engineering Mechanics Building is named after him.) As well, he excelled in legislative affairs, founded Tech's current fundraising unit, and promoted research.
Smith has received honorary doctorates from Michigan Tech, Northern Michigan University, Western Michigan University, and the South Dakota School of Mines and Technology. He also has been honored by the University of Pennsylvania and the University of Alaska.
He is a fellow of both the American Society of Metals and the Metallurgical Society, and he has been recognized as a national authority on minerals and metals. His research led to the development of some of the purest iron in the world.
Smith has served on several national engineering boards and commissions. His associations include Michigan's Council of Postsecondary Education; the Argonne National Laboratory; Michigan's Solar Energy Research Institute; and the American Academy of Transportation.
In his retirement, Smith and some friends locate hazardous mining sites in Arizona. They pinpoint the location, record data on the environment and wildlife, and erect safety signs. Smith says the group shares a "love of the desert and the never-ending quest for minerals."
Such passion always informed his leadership at Michigan Tech, and we welcome him back.