Speaker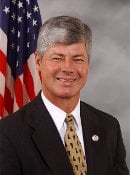 US Rep. Bart Stupak
Bart Stupak's working life has been devoted to public service.
He was elected in 1992 to represent Michigan's First Congressional District in the US House of Representatives and will retire in January. Prior to national office, he was a member of the Michigan State Legislature, a police officer in Escanaba, Michigan, and a member of the Michigan State Police.
Mr. Stupak lives in Menominee, Michigan. He earned an associate's degree from Northwestern Michigan Community College in 1972, a bachelor's degree in criminal justice from Saginaw Valley State University in 1977, and a doctor of law degree from Thomas Cooley Law School.
Mr. Stupak was a member of the House Energy and Commerce Committee and, as the ranking democrat, chair of the Oversight and Investigations Subcommittee. He spearheaded investigations of child pornography, cyber security, food and drug safety, the insurance industry, and vehicle safety.
Health care for Americans has been a priority ever since elected to Congress, when he pledged not to accept the insurance that members of Congress receive until all Americans could have access to that same quality health care. He kept that promise. A signature priority for Mr. Stupak was protecting the Great Lakes. He led the international effort to ban the sale and diversion of the Great Lakes and was the first elected official to oppose the drilling for oil and gas beneath the Great Lakes. He also successfully opposed the proposal to dump partially treated waste into the waterways.
His experience as a police officer allowed him to take a leadership role on law enforcement issues. He founded and cochaired the Congressional Law Enforcement Caucus, a bipartisan organization that provides the law enforcement community with an avenue to participate in the legislative process.
He also has been a leader in homeland security, in particular programs to train and equip local law enforcement officers and other first responders, as well as facilitate communication across jurisdictions during emergency and potential terrorist situations.
Because his district was positioned on the northern border, Mr. Stupak was cochair of the Congressional Northern Border Caucus. In that work, he advocated border security and cross-border trade. He has been singled out by the Canadian/American Border Trade Alliance for his contributions and leadership. Congressional leaders have cited Mr. Stupak for his sense of justice and fair play, knowledge of congressional procedures, and his inclination to rise above partisanship.
He has been an effective champion of Upper Michigan, a devoted public servant, and a person of high regard.