Speaker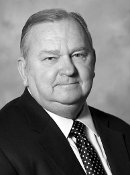 George J. Butvilas
George Butvilas is president and CEO of Quincy Hill Advisors, which provides financial institution consulting services to the banking community and the FDIC. Mr. Butvilas has over thirty-five years of banking experience. He currently serves on the Board of Directors of Citizens Republic Bancorp Inc. (the largest bank holding company headquartered in Michigan). As well, he is on the bank's Executive Committee and is chair of the Risk Management Committee. He previously served as vice chair and director of Republic Bancorp, headquartered in Lansing, Michigan. Mr. Butvilas served as president and chief executive officer of D&N Bank from 1990 to 1999, at which time it merged with Republic Bancorp. Prior to coming to the Keweenaw, he spent seventeen years in banking in the Chicago metro area.
Mr. Butvilas has been a member of the Board of Trustees of the Michigan Tech Fund since 1997. He currently serves as chair. In 2002, President Bush appointed him to the Board of Directors of the Veterans Corporation in Washington DC, where he served as chair and director. In 2005, he received the Michigan Tech Honorary Alumni Award. He is a member of the School of Forest Resources and Environmental Science Honor Academy and is the former chair of the School's Advisory Board. He also is a member of the School of Business and Economics Honor Academy and has served as chair of the School's Applied Portfolio Management Program, Michigan Tech's student investment initiative. He is currently a director of the Michigan Tech Golf Course Advisory Board. In addition, he served as chair of the Houghton/Hancock Local Development Authority, which established the Michigan Tech Enterprise SmartZone.
Mr. Butvilas has been involved in numerous other civic and philanthropic activities, including the Better Government Association of Chicago, the Calumet Theatre, Omega House, Pine Mountain Music Festival, the Michigan Tech Campaign Committee, and many others.
Mr. Butvilas is a 1967 graduate of the US Naval Academy and is a Vietnam veteran. He received his MBA from the Illinois Institute of Technology in Chicago in 1974 and taught in the MBA program there as an adjunct assistant professor for seventeen years. He graduated from the Advanced Management Program of the Harvard University Graduate School of Business in 1987.