Speaker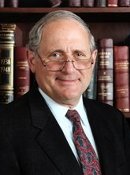 Senator Carl Levin (D-MI)
US Senator Carl Levin has served Detroit, Michigan, and America for more than forty years.
A native of the Motor City, he studied at Swarthmore College and Harvard University, where he earned a law degree.
He practiced and taught law for five years until he was appointed an assistant attorney general of Michigan in 1964.
His political career began in 1969, when he won election to the Detroit City Council. In 1978 he was elected to the US Senate and has been reelected four times.
He is chair of the Senate Armed Services Committee; co-chair of the Senate's Great Lakes Task Force; chair of the Permanent Subcommittee on Investigations; and a member of both the Small Business and Entrepreneurship Committee and the Senate Select Committee on Intelligence.
He was honored with the Department of the Navy's Distinguished Service Award in 2003; the National Guard Association's Harry S. Truman Award in 2004; the government of Poland's Commander's Cross in 2007; and the Franklin and Eleanor Roosevelt Institute's Four Freedoms Medal in 2007./p>
Levin has been a champion for both Michigan and the nation in advancing the economy, consumer protection, the environment, corporate reform, national security, and education.
In particular, he has worked to strengthen America's industrial economy; to open global markets to American goods; to protect the Great Lakes; to improve medical care for troops and veterans; to establish credit-card reform; to eliminate excessive speculation in the energy industry; to curb abusive tax shelters; and to support education, from preschool to college.
Levin is the senior senator from Michigan. He was born in 1934. He and his wife Barbara married in 1961. They have three daughters.