Speaker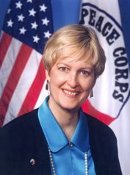 Dr. Josephine K. "Jody" Olsen
Josephine "Jody" Olsen has spent much of her life and career serving the world through the Peace Corps, America's outreach to promote service, global peace, and friendship.
As the deputy director of the agency, Olsen supports several initiatives, including strengthening the recruitment of older volunteers, measuring the impact of the Peace Corps around the world, and helping other countries promote volunteerism among their own populations.
Olsen started her career with the Peace Corps as a volunteer from 1966–68 in Tunisia, teaching English and developing community health programs. In 1979, she was named the country director for Togo, where she managed programs focused on education, health, and agriculture in the West African nation. From 1981–84, she served as regional director in North Africa, the Near East, Asia, and the Pacific. As chief of staff from 1989–1992, after the fall of the Soviet Union, she helped to expand the agency's work to twenty-five new countries.
Olsen then served as senior vice president of the Academy for Educational Development, a large international organization, and served as the executive director for the Council for International Exchange of Scholars, the agency responsible for managing the Fulbright Senior Scholar Program.
President George W. Bush appointed Olsen deputy director of the Peace Corps in 2002. She was confirmed by the US Senate.
Olsen earned a bachelor's degree in sociology from the University of Utah and a master's degree in social work and a doctoral degree in education from the University of Maryland, where she founded and directed the Center on Aging.