Speaker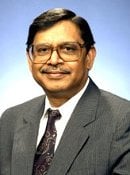 Dr. Bhakta B. Rath
Dr. Bhakta B. Rath, class of '58, is an internationally recognized scientist who has had a stellar career in national security and in defense initiatives worldwide.
Dr. Rath is senior executive at the US Department of Defense. He is head of the Materials Science and Component Technology Directorate and associate director of research at the Naval Research Laboratory.
He is responsible for a wide array of inquiry, including the planning, supervision, and administration of all basic and applied research in the structure of matter, condensed-matter physics, chemistry, electronics, materials science, plasma physics, computational physics, fluid dynamics, and biomolecular science and technology. He oversees a staff of 720 scientists, engineers, support personnel, postdoctoral fellows, visiting professors, and students. The directorate manages over three hundred research projects with an annual budget of $280 million.
Following his undergraduate studies in India, Dr. Rath earned a master's in metallurgical and materials engineering from Michigan Tech. He earned his PhD from the Illinois Institute of Technology in 1961. He joined the Naval Research Laboratory in 1976. He has served as the principal engineer in solving a number of technical problems of national importance, ranging from the structural integrity of fighter aircraft to protecting soldiers against IEDs. He has created, among others, a Center for BioMolecular Science and Engineering, a Center for Safety and Survivability, a Center for Computational Materials Science, and the Institute of Nanoscience.
Dr. Rath is a prolific author, a prominent scholar, an award-winning researcher, and a speaker worldwide. He serves on several government agencies, is involved with seven universities, and is a member of five technical societies.
He has been a leader nationally and internationally in developing collaborations among academia, industry, and research laboratories. He also promotes science, engineering, and mathematics education in high schools in the US and abroad.
His many awards include election to Michigan Tech's Academy of Metallurgical and Materials Engineering (1998). He also has been honored by The American Society of Materials, the Naval Research Laboratory, the Department of Defense, and numerous professional and scholarly organizations.