Federal Reserve Bank of Minneapolis President Meets with Students
Narayana Kocherlakota, president of the Federal Reserve Bank of Minneapolis, spoke to students in the School of Business and Economics about monetary policy and its ability to influence employment and prices in the US economy.
Kocherlakota's district is the second largest geographically and least populated, he said, stretching from Montana to the Upper Peninsula. As one of twelve districts, he is part of regular meetings of the Federal Reserve open market committee.
When asked about global market inflation and decision-making, he commented, "it's another factor for us to think about, that could influence our performance, but we are not like New Zealand where it's all they think about. The US is a relatively closed economy."
And does he think about the fiscal health of his own district over that of the US?
"We all provide information about our districts, but we make policy for the country," he said. "Officially, Kansas City, San Francisco, and Minneapolis get one vote to represent all three. We vote on national matters."
As for his district's economy? "It's doing well, but I don't think the Fed can take credit," Kocherlakota said. "The Upper Peninsula faces challenges that are historical in nature. Montana and Minnesota have unemployment around 5 percent. North Dakota has the oil boom and is around 3 percent. They can't find people to work in McDonalds! South Dakota is below 4 percent and a bit of a mystery. The labor market could actually be stronger, the economy could be stronger. There are still some 2008 effects."
AICPA/Accountemps Scholarship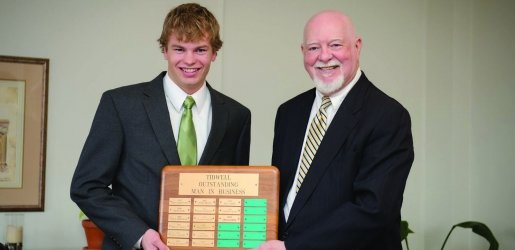 Nathan Sturos, an accounting student, received an AICPA/Accountemps Scholarship for 2013–14. AICPA and Accountemps offer the AICPA/Accountemps Student Scholarship to provide financial assistance to outstanding accounting students who demonstrate potential to become leaders in the CPA profession. It is a very competitive scholarship program, with only ten awarded nationwide. A task force, comprised of AICPA and Robert Half Accountemps representatives, will review all qualified applications. The task force will select ten scholarship recipients based on demonstrated outstanding academic achievement, leadership, and future career interests in accounting and business.
Sturos is the first recipient of this scholarship from Michigan Tech. He also completed an internship this summer with Bemis, which included a trip to Finland to help with an audit.
School of Business and Economics Teacher of the Year Award
Roger Woods has been selected as the 2013 recipient of the coveted School of Business and Economics Teacher of the Year award. "I am honored to be selected given the great faculty that we have in the School of Business and Economics," he said. "It has helped that I have had some great mentors and support of other faculty to improve my teaching." Woods first won the Teacher of the Year Award in 2011 and received the campus-wide Distinguished Teaching Award in 2012. Additionally, Woods was one of five new members inducted into the University of Puget Sound Athletics Hall of Fame this fall. He earned notoriety for the Loggers as a three-time NAIA national swimming champion.
James Trethewey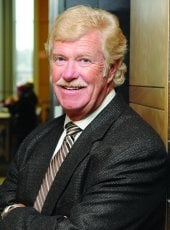 James Trethewey, a 1967 alumnus in business administration and longtime friend of the School of Business and Economics, passed away this fall.
An Ironwood native, Trethewey began his career with Copper Range and soon joined Cleveland-Cliffs (now Cliffs Resources), advancing through management positions over the years. From Ishpeming to Ontario to Cleveland, he worked in positions of increasing responsibility and became vice president-controller and chief accounting officer. Along the way, he also earned his MBA from Baldwin-Wallace College.
In his final years with Cliffs, Trethewey was senior vice president of business development and worked with the senior corporate team in reshaping the company, adding international experience to his career. He was a member of the American Mining Association, the Society of Mining Engineers, and other organizations, retiring in 2007.
After his retirement from Cliffs, Trethewey remained active in social, business, and industry activities. He served on the board of two charities, participated as a member and CEO of the limited partnership DJD Investments, and was a board member of Steel Dynamics Inc., a major US steel producer, where he also served as chairman of the audit committee.
Trethewey has long been a friend and supporter of Michigan Tech and the School of Business and Economics. He joined the Advisory Board for the School of Business and Economics starting in 1994 and served as a trustee for the Michigan Tech Fund. He and his wife have funded the James and Dolores Trethewey Applied Portfolio Management Program (APMP) Professorship, given to APMP creator Dean Johnson, and have supported students through scholarships. He was honored at the 2013 Michigan Tech Alumni Reunion, receiving the Distinguished Alumni Award, presented to alumni "who have made outstanding contributions both in their careers and to Michigan Tech over a number of years."
Trethewey leaves behind an admirable legacy. His loss will be felt deeply by everyone at Michigan Tech.
New Concentrations for Management Degree
Two new concentrations have been added to the School of Business and Economics' BS in Management: supply chain and operations management, and entrepreneurship. Both hold great promise.
"Businesses want employees with the knowledge and expertise in supply chain," says Greg Graman, associate professor of operations and supply chain management in the School. "Distribution systems are important to customers and wholesalers, and they need to be managed before they get out of control."
That importance is evident in co-op, intern, and job opportunities from companies such as Raytheon, Target, Kohler, Union Pacific, Dow Chemical, Oshkosh Truck, Mercury Marine, and Polaris.
"I get asked directly by these companies, 'Tell me about your supply chain program.'" Graman says.
"It's more than logistics," says Dana Johnson, professor of operations and supply chain management. "It's using information technology in a fashion to facilitate timely decision making with quantitative data, for example. It's an important process in manufacturing or service industries."
And, it's multidisciplinary, Johnson says. Students who transfer in from engineering or computer science are bringing quantitative aptitude, and that skill set is emphasized throughout the concentration.
But there's also emphasis on data analysis, finance, strategic skills, global perspective, and communications.
Elsewhere, future entrepreneurs can now get focused training in the SBE. The new concentration is the result of work by Saurav Pathak, Michele Loughead, Russell Louks, and Tang Wang, and experiential learning in entrepreneurship will be the focus.
Several entrepreneurial entities on or around the Tech campus—including the Office of Innovation and Commercialization, the Enterprise Program, the Senior Design Program and the MTEC SmartZone—have been identified and integrated into what could become a sustainable "entrepreneurial ecosystem," Pathak says.
"These entities have contributed a total of eleven technology-based projects for the Business Development course, whose commercial potential is to be ascertained by our business school students."
Currently, forty-three students are enmeshed in all things entrepreneurial.
"The two-content-based course sequence—entrepreneurship and entrepreneurial management—fits in as an introduction and connection for the management students in the new concentration," says Wang, "At the same time they are taking the business development courses in sequence."
"And the students will be working on real projects with commercial applications, producing real business plans," Pathak adds. "In essence, the concentration benefits from the predominance of technology on campus."
Michigan Technological University is a public research university founded in 1885 in Houghton, Michigan, and is home to more than 7,000 students from 55 countries around the world. Consistently ranked among the best universities in the country for return on investment, Michigan's flagship technological university offers more than 120 undergraduate and graduate degree programs in science and technology, engineering, computing, forestry, business and economics, health professions, humanities, mathematics, social sciences, and the arts. The rural campus is situated just miles from Lake Superior in Michigan's Upper Peninsula, offering year-round opportunities for outdoor adventure.