Michigan Tech students partner with a family-run lobster company to harness the power—and potential—of digital integration.
Much like turtles, there is theoretically no upper age limit for lobsters. Scurrying about the sea floor, lobsters do not slow down as they age. An enzyme (telomerase) repairs their DNA sequences, and it isn't uncommon for decades-old lobsters to be more fertile than younger specimens. As creatures, they are long-lived.
But as cuisine, their shelf life is a great deal shorter. "Lobster is a perishable item," explains Michael Kiernan, owner of Marblehead Lobster Company in Marblehead, Massachusetts. "They don't have a great shelf life out of the water."
That means a lobster that might cost $8 at a seaside restaurant in Massachusetts would be $80 on a table in Paris, simply because of time and distance. Lobsters have to be delivered quickly, and harnessing the power of digital connectivity is essential for commercial success.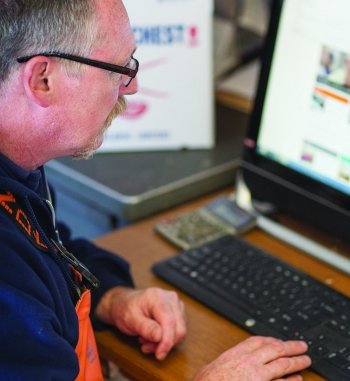 Kiernan takes pride in his catch, but he also takes great pride in helping to support his community. "We're family run, local, and here seven days a week," he says between orders. "We keep our products local whenever we can."
"Sometimes we bring in something like Chilean sea bass, but we try to sell local goods and support our community. I'm proud of that."
The company has a home in the heart of their community, but they needed a boost getting their orders collated and lobsters shipped as quickly as possible. Enter ITOxygen, one of many groups in the Enterprise program at Michigan Tech aimed at giving students real-world experience before they step beyond graduation. Thanks to a connection through Michigan Tech alumnus Paul Dougovito, ITOxygen was able to get right on the case. Dougovito, a bank executive on the east coast, brought ITOxygen and Marblehead Lobster together because he saw an opportunity to help a business he loves and a school he believes in.
Russell Louks, professor of practice in the School of Business and Economics, acts as advisor to ITOxygen and saw a golden opportunity in the blue waters off the Massachusetts coast.
"The company didn't have a web presence before, so we were starting from scratch," Louks explains. "The students were able to experience every aspect of the software development process. They needed to gather the customer requirements, define the architecture, design the graphics, write/test the software, identify the webhosting service, launch the software, and train the users."
"There was a lot going on."
Scott Ringwelski was one of the students instrumental in getting these information management solutions in place, helping to ship lobsters everywhere from Michigan to Montana.
"The new website allows customers from within the US to purchase lobster and have it shipped to them," he explains. "The site also serves as an online presence for the company."
Kiernan was pleased with the experience. "[Working with the students] went really well," he says. "We checked in every week to make sure we were all on the same page. It was a really enjoyable process."
This wasn't just a collection of emails and conference calls, however. In order to really get the job done, Ringwelski and his team had to hit the road. "At the beginning of the semester I was given the opportunity to fly out to Boston and visit the site," he says. "While in Massachusetts I met the owner, visited the shop, met some of the fishermen, visited the local area, took pictures for the website, and got an overall feel for the company."
More than just a class project, the goal for ITOxygen was to expose students to something they're likely to experience every day after graduation, with the chance to make a difference at the same time. "The purpose of ITOxygen is to provide the students with real-world information technology experience, so we are always looking to partner with companies that can provide us with projects that will actually be used to support their business when we are done," says Louks.
Richard Berkey, industry projects manager at Tech, is able to view the Enterprise program in a big-picture sense. He sees work like ITOxygen's Marblehead Lobster project as benefitting everyone. "Projects like these not only help the sponsoring companies meet their goals," he says. "They also provide our students a unique opportunity to gain the practical, hands-on experience sought by employers— well before they graduate."
Louks concurs, seeing how this particular project has come together. "It has given the students hands-on experience with what it takes to deliver a product that will have real customer demands and real users and real support issues," he says. "The Marblehead Lobster project was a perfect t for us. It was also containable within two semesters of work."
With that short shelf life, ITOxygen's mission was to build the back end of the company's website for ease of order processing, while developing the front end to be appealing to the public and help the company prepare to make a bigger splash on the national and international stage.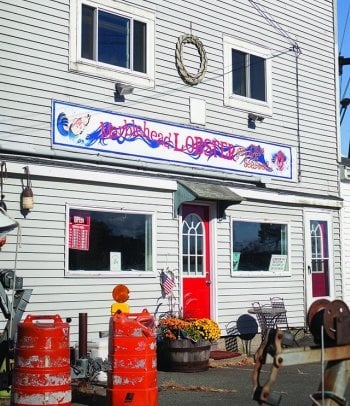 Ringwelski, for one, was pleased with the results. "The website turned out great and we were able to complete the entire site—ready for production use—in just the semester," he says. "Last summer, just after the site was finished, we had over $1,600 in lobster sales."
For Kiernan, who has owned the business for the last eight of the company's 90-year history, the website is just the first step in building a digital presence for Marblehead Lobster. "This website gives us the ability to ship to more people. We're still in the early stages of our web presence; it's really going to take off." He's planning to work on search engine optimization and advertising to help the brand gain a digital identity.
Some of those next steps will be taken with ITOxygen as well. "The web team at ITO will continue to grow the site by introducing marketing and new features to increase sales," says Ringwelski.
At the end of the day—when the fishing boats come back to dock and they and their crews refuel—the pride of a job well done is shared across hundreds of miles, from the storefront of the long-lived Marblehead Lobster to the busy hallways of the School of Business and Economics. As Ringwelski notes, ITOxygen has taken a good deal of pride in helping to get the word out on this great catch of a company. "As a team we were excited to have finished a start-to-end product in one semester that found such immediate success."
Michigan Technological University is a public research university founded in 1885 in Houghton, Michigan, and is home to more than 7,000 students from 55 countries around the world. Consistently ranked among the best universities in the country for return on investment, Michigan's flagship technological university offers more than 120 undergraduate and graduate degree programs in science and technology, engineering, computing, forestry, business and economics, health professions, humanities, mathematics, social sciences, and the arts. The rural campus is situated just miles from Lake Superior in Michigan's Upper Peninsula, offering year-round opportunities for outdoor adventure.