Michigan Tech students partner with a family-run lobster company to harness the power—and potential—of digital integration. Much like turtles, there is theoretically no upper age limit for lobsters. Scurrying about the sea floor, lobsters do not slow down as they age. An enzyme (telomerase) repairs their DNA sequences, and it isn't uncommon for decades-old lobsters to be more fertile than younger specimens. As creatures, they are long-lived.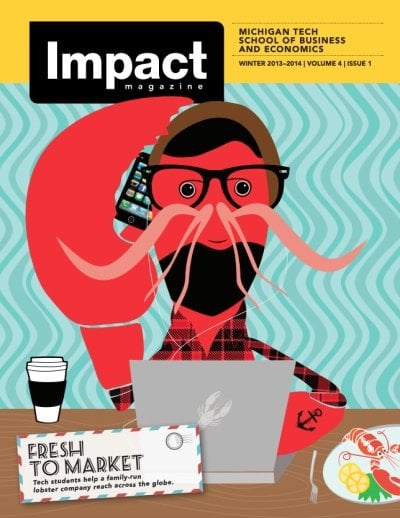 On the cover: How do you ship lobsters around the world when you're a small business?
---
Impact is published semi-annually by the School of Business and Economics and University marketing and Communications at Michigan Technological University.
Dean: R. Eugene Klippel
SBE Marketing and Communications: Lynn Makela
Creative Director: Brandy Tichonoff
Art Director/Designer: Jackie Johnson
Authors: Kevin Hodur, Erin Kauppila
Principal Photographer: Sarah Bird
Contributing Photographers: Erik Freeland, Mr. Narayan, Heather McGrath
Cover Artwork: Jackie Johnson
Please send correspondence to impact@mtu.edu.